Is it a garden trailer for towing behind a tractor or is it a hand-cart for lawn and garden projects? With the newest model in the Polar trailer line by Clam, the LG600 Hybrid, customers get both. From small to big backyard jobs, the flexibility to decide makes this a superior option, and with an MSRP of $199.99 it's like getting two for one.
The heavy-duty polyethylene tub boasts a 600 lb. load capacity giving users the confidence to tackle any size garden job. The all steel frame holds a powder-coat finish to stand up to the outdoor elements. Clam developed the original Tilt-and-Pivot frame, now with a quick release foot pedal latch. It converts to a standing cart or utilizes a hitch for the trailer with just a few minor adjustments. The lengthened tongue and angled handle make this trailer work no matter which way you use it. Add the stand and it sits firmly as a hand cart; the handle aids for tipping leverage to get a cleaner dump than comparable competitors' models. The upgraded wheels and steel rims support whatever landscape cargo is on the to-do list. And it isn't just perfect for homeowners; it's perfect for small landscape operators who don't have room in their trailer for two kinds of options; but one hybrid that works both ways is the ticket. A three-year warranty gives peace of mind for homeowners and full-time professionals.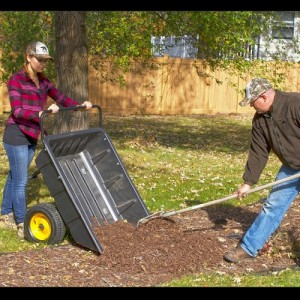 Load size is seven cubic feet (up to 10 cubic feet heaped). Overall dimensions run 71"x33"x33" with a weight of 55 lbs. empty. Tires are a generous 8" x 4.8" with strong, steel rims.
"We've tested our LG600 against other comparable brands, and we've made it far easier to convert this trailer to a hand-cart, with or without a quick application of the stand," Tom Walter said. As Research and Development Manager at Clam Outdoors, Walter puts Polar trailer components through their paces and knows this product will stand up with its 3-year warranty. "It's a great option with a ton of versatility."
Several trailer accessories, new for 2016, fit the hybrid LG600 as well as other carts and trailers in the complete Polar trailer line. A carbon steel tool rack (model #10517) mounts on the side of the tub and allows easy storage for three long-handled tools such as rakes and shovels. With overall dimensions of 19"x10"x4.75",  model #10517 adds only $49.99 with its MSRP.
The tool organizer (model #10518) mounts to the front or rear of the tub. Made of carbon steel in a durable glossy black finish, the organizer includes a tray with room to place up to 15 tools such as gardening spade or clipping shears. Two 3 ½" diameter openers are flexible for use with bug spray cans or even cup holders saving time with fewer trips back to the house or garage. Overall dimensions are 21"x9.75"x4.5" and the MSRP is $39.99.
An easy-to-use foot pedal latch is the third new accessory for Polar by Clam in 2016. Model #10537 enjoys an MSRP of $29.99 but will be worth its 2.5 lb. weight in gold as it saves on back strain. With a touch of a boot, the quick-release system engages to tilt back the trailer without repetitive bending.
Polar products are available online and at these top retailers (1500 stores nationwide): Lowe's Home Improvement, Home Depot, Amazon.com, Mills Fleet Farm, Blaine's Farm & Fleet, Runnings, L & M Fleet Supply, Tractor Supply and Northern Tool & Equipment. Polar by Clam Outdoors is a proud new member of the National Association of Lanscape Professionals and will showcase these new items plus many others at the National Hardware Show, May 4-6 in Las Vegas.