TRAC Outdoor Products introduces the TRAC® Digital Circuit Breakers.  The micro-processor within these new circuit breakers monitor voltage and current in real time to automatically protect 12v circuits from damage caused by overload or short circuit.  "This innovative design utilizes an internal micro-processor to digitally control current and eliminate the potentially dangerous inaccuracy of thermal breakers," says Tom Rogers product designer and owner of TRAC.  Another innovative design element is the flexible control over current limits with user-selectable current (amperage) limit. 
The functions of On/Off, Manual Reset and Automatic Reset give user more complete control over the circuit protection process as well.  For example, there might be times when it is inconvenient to go to the breaker to manually reset it.  The Automatic Reset mode would allow the user to continue to fix the fault without repeated trips to the breaker for a reset.  If a TRAC Digital Circuit Breaker detects a fault condition, the current flow will be interrupted at a very precise and user selectable point.
These digital circuit breakers from TRAC are new to the world with two never before seen features of current selection and on-breaker numerical display of voltage and current in real time.
New-to-the-world features include:
User selectable current (amperage) limit

Models with LED numerical display indicate Voltage and Current in real time

User selectable Auto or Manual Reset modes and OFF modes
Additional features include:
Surge Compensation to monitor amperage and allow short duration current surges common with electric motors

Circuit interrupt LED indicator light to show when the circuit is broken

Dedicated circuit reset button

Completely sealed and waterproof for use or placement anywhere
TRAC is introducing this new technology with 4 different products, each with 4 options of amperage limits: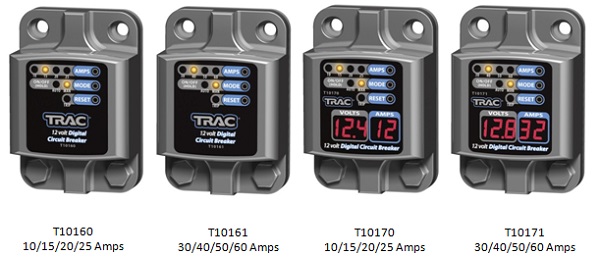 These new products for 2016 come with TRAC Outdoor Products' standard 2-year warranty, and of course, installation and use instructions. 
The retail pricing on this new technology is comparable to that of a standard thermal breaker but with so many more features:

Input from early customers and those shown the product are creating new ideas for the application and use of these unique Digital Circuit Breakers.  The display options is very popular as people are able to know what output (volts) their battery still produces as well as what the device is actually using in amps.  The options without the display are great in tucked away areas.  TRAC Outdoor Products is looking forward to the many opportunities for these new Digital Circuit Breakers in many markets and industries. 
About TRAC Outdoor Products Company
TRAC Outdoor Products Company is a US-based product design and development company.  The company has been supplying packaged consumer goods to the Marine, Fishing and Sporting Goods markets as well as OEM components to boat, RV, and trailer manufacturers for over eighteen years.  TRAC focused on 12-volt powered products with an emphasis on the boating/outdoor enthusiast.
TRAC Outdoor Products Company is motivated to make leisure activities less work and more enjoyable for our customers.  We design products to exceed customer expectations in the opening to mid-range retail price-points.  Our leading product lines under the TRAC® brand name are electric winches for both trailerable boats and anchors.  The company also brings to market many more items, ranging from Paddles to Pumps – all to support the marine and outdoor lifestyle.  For more information, please visit www.trac-outdoor.com as well as www.crookedcreekpaddles.com