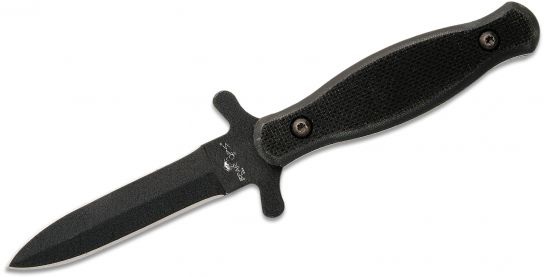 Bear OPS extends their popular combat knife line with a new boot knife, the Double-Edge Boot Knife (model: CC-820-B). This American-made, tactical knife features black textured G10 handles and a hard-hitting 1095 carbon-steel blade with a full-body tang. This knife was designed to meet the specialized needs of first responders, military members, and government agencies.
The 3 ¼" double-edge blade is easy to maintain thanks to its durable cutting edge. It boasts solid tip retention and can handle the most difficult tasks. A black epoxy powder coat finish is added to resist rust and to minimize unwanted glare. The Double-Edge Boot Knife also includes strong black G10 handles that provide a firm grip in the most challenging environmental conditions.
Secure the blade with the versatile Kydex® sheath within a boot, on-body, or attached to personal protection gear. Weighing 4.8 ounces, the CC-820-B is lightweight and built to last—a guarantee backed by the Bear OPS lifetime warranty.
Bear Ops Double-Edge Boot Knife Specifications
Model: CC-820-B
Blade Material: 1095 Carbon Steel with Black Epoxy Powder Coating
Handle Material: Black Textured G10
Rockwell: 58-60
Closed Length: 7-7/8"
Edge Length: 3-1/4″
Weight: 4.8 oz.
MSRP: $81.99
Extras: Kydex Sheath, Lifetime Warranty, Jump Ready
Learn more about the CC-820-B and other Bear OPS knives by visiting www.bearandsoncutlery.com.