As part the Union Sportsmen's Alliance (USA) Work Boots on the Ground program, a group of volunteers from the United Union of Roofers, Waterproofers and Allied Workers restored a cabin utilized by Boys Scouts at Montgomery Bell State Park June 10 by re-roofing the structure. Volunteers from the Nashville Building and Construction Trades Council (BCTC) pitched in by rebuilding decaying porches and making various cosmetic repairs earlier in the week.
"The cabin was deteriorated. It was very unsafe," said Nashville BCTC President Anthony Nicholson. "In order to take care of our children, who are our future, we decided to take on this project. It is a great way for us to give back to the community." 
Built by the Civilian Conservation Corps in 1937, the cabin and surrounding camp area had not been rented out since 1985 because of the unsafe conditions, according to Park Manager Pat Wright. Although Boy Scouts had patched it up over the years, it was in dire need of repair.
"We sometimes have projects that we can't complete because we don't have the time or funding," said Wright. "Volunteer projects like this are so important because they ultimately help us reach our goals."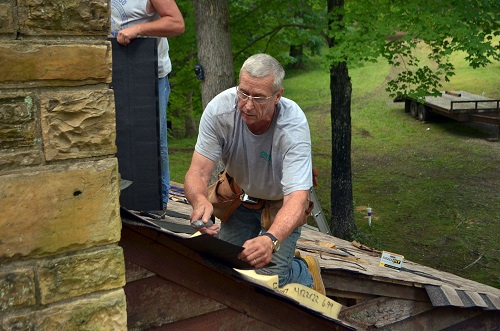 Wright said he jumped at the opportunity to work with the USA because of his previous experience. Union volunteers rebuilt a bridge at the park two years ago, and Wright said the partnership was extremely positive.
"While they were building the bridge, I was able to experience their great professionalism, and I was impressed that they built it in such a timely manner," said Wright.
The park had lumber and most of the other needed building materials on-hand for the project, and RSS Roofing Services & Solutions donated the roofing materials. With willing, skilled volunteers added to the equation, this project was completed swiftly and accurately. In addition to the reconstructed porch the BCTC volunteers built, Roofers removed the old, dilapidated roof and replaced it with new decking, ice and water shield, synthetic felt and conventional shingles, according to Roofers International Vice President Michael Stiens.
"Members of our union are the best-trained, most conscientious roofers in the world. When union roofers finish a job, you can be certain it is done right," said Roofers International President Kinsey M. Robinson. "It gives me a great sense of pride to see union roofers volunteering their time and skills to give back to local communities through conservation projects."
The USA's Work Boots on the Ground conservation program brings together union members willing to volunteer their time and expertise to conservation projects that improve and enhance public access to the outdoors, wildlife habitats and outdoor experiences for communities across America. For more information about Work Boots on the Ground, email USA Conservation Manager Ty Brown at tyb@unionsportsmen.or or call him at 615-831-6751.
#  #  #
The Union Sportsmen's Alliance (USA) is a union-dedicated outdoor organization whose members hunt, fish, shoot and volunteer their skills for conservation. The USA is uniting the Union community to expand and improve hunting and fishing access and wildlife habitat throughout North America. For more information, visit www.unionsportsmen.org or www.facebook.com/unionsportsmen.