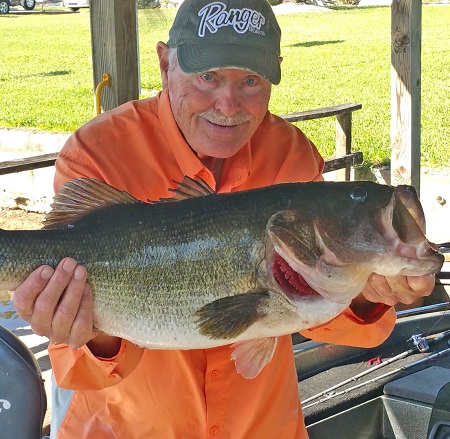 Lake Istokpoga has become one of the most productive trophy bass lakes in the country following major habitat enhancement programs by the FWC. Anglers can be extremely productive fishing this revitalized habitat using shiners, if they know what to look for and follow some simple tips. Big bass congregate around thinned-out cattail. This should be even better after FWC conducts a prescribed burn in spring 2014. Similarly, bulrush in 5 to 6 feet of water, or spatterdock that is not too dense both provide great habitat.
For shiner fishing, I use a 7.5- to 8-foot, medium-heavy to heavy fiberglass or composite rod, with a level-wind bait-casting reel. Since you will be manhandling big bass through vegetation, load up with 30-pound big game monofilament; for our application, braided line floats too much. Use a 4/0 or 5/0 hook, with a heavy weed guard for an 8- to 9-inch shiner, and hook it through both lips. Approximately three feet up from the hook add a bobber.
Cast the shiner into the thinned vegetation that I described before and let the bait swim with the bail open. The idea is for it to work its way back into the cover where the big bass will be lying in ambush, especially on sunny days. On a cloudy day or around dawn or dusk, you may find the trophy bass cruising a little further from cover.
If you are using more than one rod, set the clicker to warn you if a bass hits your bait and starts taking line. Give it a moment, lock the bail and then set the hook hard. Get it headed out of the vegetation and reel fast, ensuring that you maintain tension on the line. Do not forget if it is over 8 pounds it is eligible for TrophyCatch, so try not to exhaust the fish letting it fight too long. Get it to the boat, take a full-body photo of your catch on a scale, and kiss it goodbye when you let it swim off and proclaim "My Trophy Swims in Florida!"
Related articles