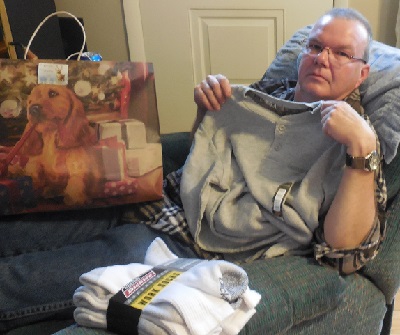 As I sit and write this piece it is 5 o'clock in the morning.  The pellet stove is going and I have a hot cup of coffee next to me.  The rest of the family is still asleep which allows me time to reflect upon another Christmas in the books.  Sitting here alone with my thoughts I can honestly say it was the best Christmas ever.  I was surrounded by family and friends.  My wife put together a great meal of ham (store bought as I didn't get a wild pig this year) and my granddaughter was crawling all over the place.
     It wasn't your typical year of ties (I don't wear ties, but I usually still get them), underwear, ugly sweaters and fruit cake, though I did get socks.  It was a year of wool socks, camouflage clothing and fishing gear.  My daughter finally brought me out of the Stone Age and got me a cell phone and I got my granddaughter her lifetime New Hampshire Hunting and Fishing License.  Even my wife got camo.  There was a great deal of thought put into all of the gifts, by everyone, but more important we shared our love for the outdoors and for each other.
     All that sentimental stuff aside, there are always those things you would like to get, but never seem to do.  Those are the gifts you would normally buy for yourself, but you hope someone else will do it.  Even though you hint very broadly about those items they never seem to materialize under the tree.  Some items, like a new truck and a boat seem to fall into that same category as your daughter's wish for a pony.  What follows is a short list of my post- Christmas, Christmas list.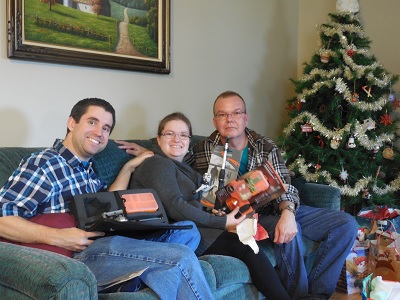 For the Angler:
A fishing net makes my life so much easier when going after trout.  Most of my nets are inexpensive ones that don't usually last very long.  I really need a good one.  Sunny Brook Nets is located in northeastern Vermont and combines beautiful woodwork with functionality.  I first saw these nets at an outdoor show in Concord, New Hampshire and I fell in love with them.  Tom Stickney, the owner and founder of Sunny Brook Nets uses select hardwoods such as maple, cherry and walnut, along with a fish friendly clear rubber netting to create these quality products.  Visit their website www.sunnybrooknets.com
There is never such a thing as "too many fishing lures".  Any angler knows that you just never know what works at any particular moment so it is always good to have a wide assortment to choose from.  The Turbo Weedless Spinner is one of those things that I wish I had thought of.  Combining the proven fish catching abilities of both the in-line spinner and soft plastics, Brad and Nancy Klose have produced a great lure for catching all manner of fish from trout to Northern pike.  I used a Turbo Weedless Spinner while fishing for muskie in Kentucky and like what I saw.  The Turbo Weedless Spinner is made in Massachusetts and you can check them out at www.turboweedlessspinner.com
For the Hunter:
Membership to Green Mountain Shooting Preserve
     Despite all of our greatest intents, we all get rusty in the shooting department from time to time.  For that reason my next item on my wish list is a membership to New Hampshire's only shooting preserve that is open to the general public; Green Mountain Shooting Preserve in Effingham, New Hampshire.  Offering a sporting class course, five-stand and wobble trap, as well as upland hunting opportunities, Green Mountain Shooting Preserve is a great place to knock off the cobwebs, from both yourself and your dog.  There are a variety of memberships available and they are well worth checking out.  Go to www.greenmountainshooting.com
Puddleset Waterfowl Decoy Anchors
     I first met Bob Sieman, the owner and designer of Puddleset Waterfowl Decoy Anchors at one of the many outdoor shows I go to this past winter.  Based out of upstate New York, Bob produces a unique lineless anchor system for those of us who hunt puddle ducks.  As soon as I saw them, I had to get some.  If you have ever lugged a bag of decoys, along with the assorted lines and lead weights, and then add to that the time it takes to untangle those lines, then you'll understand why I love the Puddleset anchors.  Just clip them on and you are all set.  No more tangles; no more wasted time.  Check them out at www.puddleset.com
Outdoors in General:
A case of Green Mountain Tick Repellant
     I spend a great deal of time outdoors.  Whether turkey and deer hunting; fishing backwoods trout streams or hiking and camping, I seem to come back with more ticks than a cheap watch.  Let me say this, "I hate ticks" and that is why I located and purchased Green Mountain Tick Repellent.  Made right next door in Dorset, Vermont, Green Mountain Tick Repellent uses all natural ingredients to produce this extremely effective product.  This tick repellent doesn't contain deet so it is safe to use on all members of the family.  Best of all it works.  Check them out at www.gmtick.com
     Have you ever been camping, hunting or fishing and needed to light a fire, but the wood was green or you had limited dry tinder?  I have, so I now carry a few Lightning Nuggets in my pack and one, or two in my tacklebox.  Lightning Nuggets are made in Washington State from the sawdust of pitch pine and a little bit of paraffin to bind it all together.  It will burn about 15 minutes at a temperature of 480 degrees, so it will light even the most stubborn wood.  Check them out at www.lightningnuggets.com
     Let's face it; if your feet get cold then your day is going to be a miserable one.  Darn Tough socks, which are made in Vermont, will keep your feet dry, warm and comfortable all day long.  This was actually a gift I got from my daughter and son-in-law, but like fishing lures, you can never have enough warm socks.  Check them out at www.darntough.com.
An Outdoors Class Taught by Creek Stewart
Speaking about the ultimate gift, for me it would be to get one of the classes on outdoor survival taught by Creek Stewart of "Fat Guys in the Woods" fame.  Creek runs Willow Haven Outdoors and teaches classes in all aspects of the outdoors for people of all levels.  Visit his website www.willowhavenoutdoor.com.
     This is a very short list and I'm sure all of you can put together lists of your own.  But let's be honest; is this the time of year to worry about what you get?  All of this stuff I've listed I can easily get myself.  Christmas is about giving to others and surrounding yourself with family and friends (though I still want a new truck and a boat).
By Dana Benner