J

onathan Randall of Smithville became a Missouri record holder when he shot a river carpsucker using a bow and arrow at Smithville Lake in early May. The new "alternative method" record river carpsucker taken by Randall weighed 9 pounds, 10 ounces, and measured 24 and ¾ inches. Missouri Department of Conservation (MDC) staff verified the record-weight fish using a certified scale at Price Chopper in Smithville.
Randall broke the previous alternative-method state-record river carpsucker of 7 pounds, 12 ounces taken on Lake of the Ozarks in late April.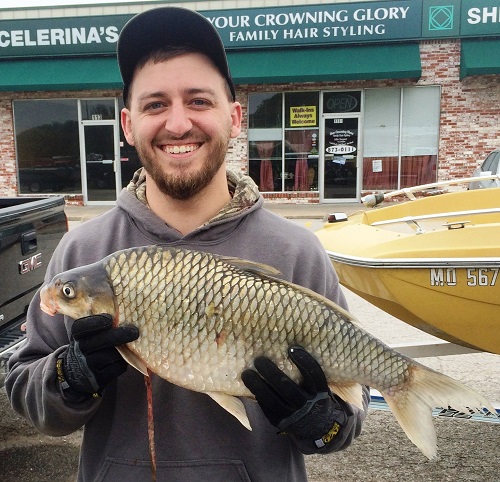 Missouri state-record fish are recognized in two categories: pole-and-line and alternative methods. Bowfishing is considered an alternative method and consist of a bow or crossbow that shoots arrows attached to a string so that the fish can be retrieved after they're pierced. Other alternative methods include: throwlines, trotlines, limb lines, bank lines, jug lines, spearfishing, snagging, snaring, gigging, grabbing, and atlatl.
Carpsuckers are nongame fish in Missouri. For more on this species, visit the MDC online Field Guide at mdc.mo.gov/discover-nature/field-guide/river-carpsucker.
Conservation makes Missouri a great place to fish. For more information on state-record fish, visit the MDC website at mdc.mo.gov/fishing/state-record-fish.