When you need impressive power and range with the advantage of quick followup shots the .338 Federal in a Wilson Combat AR rifle is a potent choice. The .338 Federal from Wilson Combat is ideal for any medium-large game hunting in North America including trophy wild hogs, elk, moose and bear.
Considered by some ballistic experts to be the ideal cartridge for North American big game, the .338 Federal is also known for superb accuracy and stopping power in a controllable package. The .338 exhibits impressive downrange ballistics comparable to 7mm Magnum or .338 Winchester Magnum class cartridges with the added ability to fit in a lightweight short action semi-auto like our BILLet-AR rifles. The .338 Federal cartridge is based off the .308 Winchester and uses the same receivers, bolt and magazines as its parent cartridge without any loss in capacity.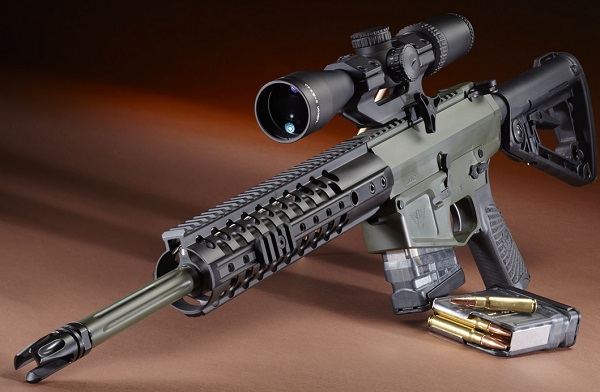 These rifles utilize our lightweight, in-house machined BILLet-AR receivers and Wilson Combat Match grade barrels. This rifle is further enhanced with our renowned custom features like our button-rifled Match Grade barrels, T.R.I.M hand guard rail and crisp, reliable Tactical Trigger Units.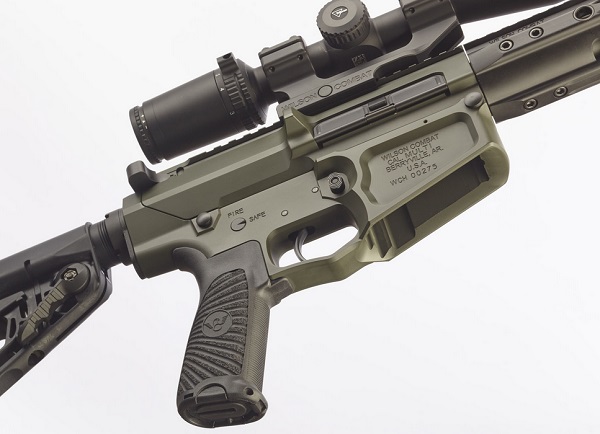 The rigid but lightweight BILLet-AR receiver with 14.7″ barrel and pinned muzzle device of your choice is one of the handiest semi-auto big game rifles on the market. The .338 Federal is also offered in a medium profile 16″ fluted and unfluted barrel versions.
These Dealers Are Stocking Now
Bullet Hole
330 S Orange Ave
Sarasota, FL 34236
941-957-1996
www.bulletholeonline.com
Indiana Gun Club
14926 E 113th St
Fortville, IN 46040-9598
(317) 485-6540
www.idianagunclub.net
Four Peaks Armory
3813 E Kenwood St
Mesa, AZ 85215
480-209-3003
www.fourpeaksarmory.com
Victory Gun & Guitar – 436181
146 W Main St
Van, TX 75790
victoryggw@gmail.com
The best of both worlds-our lightweight but rock solid T.R.I.M rails for AR pattern rifles have been updated with the market leading, revolutionary KeyMod™ attachment system. Available in multiple lengths, these new AR handguard rails are among the ultimate in high quality, user-installed modularity.
Our precision machined three, six, and nine O'Clock KeyMod™ positions enable fast, easy mounting of multiple shooting accessories popular across the shooting industry.
The dual QD sling swivel attachment points are pre-installed into the rail and make attaching your push-button sling a simple task.
In addition to a lighter, sleeker rail profile, the barrel nut design was retained from the original T.R.I.M rail to make it simple for users to easily swap the older T.R.I.M rail design with the KeyMod™ version.