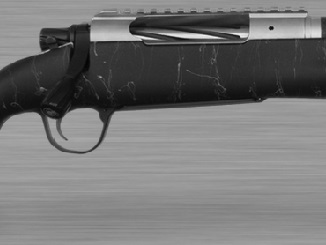 Made in the USA, and all new for 2016, Christensen Arms has released, and is now delivering, a comprehensive and feature-packed long-range hunting rifle. The ELR™ model represents Christensen's dedicated extreme long-range hunting rifle platform that addresses the demands of today's hunters and shooters seeking successful hunts, with filled tags, by harvesting game at extended ranges. This new rifle is further evidence that Christensen Arms is indeed a relevant firearms manufacturer, and has grown far beyond that of being a custom shop with unique barrel offerings.
The ELR model offers one of the most lightweight designs in its class: 7.5 pounds. It was designed to incorporate the features most needed to allow for a very robust, yet lightweight, hunting rifle that yields accurate, and precise, shot placement at extended ranges, time after time. It is supported with a SUB-MOA accuracy guarantee, and is available in 12 performance-oriented chamberings from 6.5 Creedmoor to the 338 Lapua Magnum.
Features include Christensen's proprietary bolt-action, made from 416 stainless steel, with a side bolt release, spiral fluted bolt, scalloped bolt shroud and knob, and incorporates an integral 20 MOA tapered 1913 Mil-Std rail. The firing system is controlled via a 3-Way adjustable trigger. The barrel is also proprietary to Christensen Arms, and is a button-rifled match-grade carbon fiber-wrapped barrel, made from 416R stainless steel, and is finished with a Slayer™ brake — a lightweight, unique, and effective titanium side baffle muzzle brake. Exclusively from Christensen Arms, the Slayer allows for the shooter to avoid the ill effects of blowing up dust, while shooting from the prone position, when firing a round; and it also allows for the shooter to better tune the amount of barrel jump via the four port adjustments at the top of the brake.


The composite stock is a new design from Christensen Arms. It is manufactured with a hand-laid process, using carbon fiber and select epoxy compounds that yield excellent strength-to-weight ratios that the hunter can appreciate. The stock has invar pillars to support the action, is painted black with gray webbing accents, has two front swivel studs, one rear stud, and is finished with a highly effective recoil pad. The stock ergonomics were focused to deliver a very adjustable, maneuverable, and manageable platform. Both the cheekpiece and length of pull (LOP) adjust in .25″ increments, with inserts, so the rifle can be adjusted to truly fit the vast majority of hunters – to include youth.
The ultimate benefit the ELR model affords its new owner is the fact that one can simply bypass the gunsmith, and go directly to the range. With a suggested retail price of $3,499.00, there seems to be no detail or feature overlooked to satisfy this growing segment of demanding hunters in the shooting sports.
For Marketing related questions and support, please contact:
Industry: Kyle Brown – E-mail: KyleB@ChristensenArms.com
Consumer Imagery and Company Contact Details: supported herein or at www.ChristensenArms.com/Media