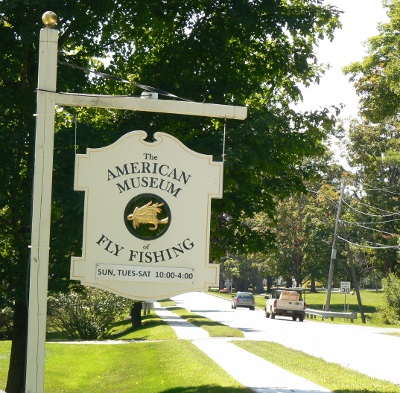 I remember my first experience with fly fishing, or rather with a fly fisherman.  I was just a kid and I was out fishing with a Zebco 33 spin-casting set up and I was on a stream near my home.  I was mesmerized by that fisherman, laying the line on the water, catching trout after trout.  I remember walking up to him and asking him to show me what he was doing.  He wouldn't give me the time of day.  I was some poor kid who would never amount to much with a fishing rod and a worm.  I was "one of them".  That image lasted with me well into adulthood.  I vowed to stay away from fly fishing and all of that fancy stuff.  After all, some poor kid who fished to help feed his family wasn't in the same league as those "purest" anglers.  I suppose I should thank that angler for, because of him, I am deeply involved with teaching all of those who wish to learn about the outdoors.
Fast forward to about 30 years ago.  I was an up and coming outdoor writer.  One day a fellow writer named Jim Riccardi offered to teach me to fly fish.  We started out small, fishing for sunfish on a small pond.  After that I was hooked, but I made another vow to never become one of those snooty anglers.  Fast forward to present day.  I still fish with a fly rod, but I would never consider myself a fly angler.  I don't own a fancy fishing vest or special hat.  I don't own a $300 fly rod and while I can tell the difference between a dry fly and a streamer, I couldn't tell you their names.  Thankfully over the years I have had the guidance of good friends Stephen Cole and Jack Hanley.  Stephen is a fly fishing guide in New Hampshire and Jack, well Jack is just a good guy who loves to fly fish.
Fly fishing is really an art form and watching a really good fly angler is like watching a dance with every movement by the angler being in perfect time to the water and with the fish.  The grace in which the almost weightless fly lands gently upon the surface of the water is amazing.  That is how it is supposed to look, unless you happen upon me on one of your journeys.  Grace is not my middle name and I look more like an elephant trying to tap dance than anything that resembles poetry in motion.  Despite that, fly fishing has something about it that keeps me coming back for more.  I must be a glutton for punishment.  I must enjoy getting my line hung up in every piece of brush or stepping into that unseen hole that is deeper than my waders are high; or I must love that sudden pull on the other end of the line when I actually do something right, that keeps me coming back.  Just what is the allure of fly fishing? To find out I made a trip to the American Museum of Fly Fishing in Manchester, Vermont.  I needed to find out just what keeps anglers, such as me, coming back for more.
The Manchester, Vermont area is blessed to have nearby two really great trout waters: the Battenkill River and the Mettawee River.  It was while visiting the area to fish the Mettawee River in Rupert, Vermont that I learned about the museum, so I made an appointment for a later visit.  As it was to turn out it was much more than I expected.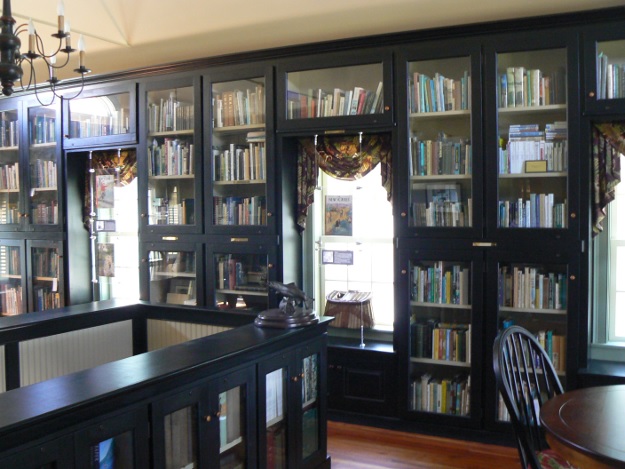 Located on the property next to Orvis, the American Museum of Fly Fishing is easy to miss unless you are looking for it.  In fact the main Orvis store is the best reference point as it sits right next door and I am sure that the museum gets many first time visitors because of it.  Whether you find it by accident, or if you are intentionally looking for it, the American Museum of Fly Fishing is a must stop.  According to Cathi Comar, Executive Director of the museum, the museum is "devoted to the preservation of fly fishing history".  The mission statement of the museum re-emphasizes that thought by saying, "The American Museum of Fly Fishing is the steward of the history, traditions and practices of the sport of fly fishing and promotes the conservation of its waters.  The Museum collects, preserves, exhibits, studies and interprets the artifacts, art and literature of the sport and uses these resources to engage, educate and benefit all."
Recently I had the opportunity to sit down and speak with both Cathi Comar and Peter Nardini, Communications Coordinator of the American Museum of Fly Fishing, to get their thoughts on fly fishing and the mystique that seems to hang over the sport, as well as the misconceptions that many people seem to have in regards to fly fishing.  We also discussed how the museum got started and why?
History of the Museum:
The museum was officially founded in 1968 and was the brainchild of Hermann Kessler and Leigh Perkins.  It was while visiting the Orvis store that Hermann Kessler (1904-1993) found some artwork and flies that dated back to a display at the 1893 World's Fair in Chicago sitting in the back room of the store.  Kessler, being a world class fly angler and the Art Director for Field and Stream Magazine, saw the historical value to his discovery and the need to not only preserve his findings, but to also make them available for all to see.  He brought his concerns to the attention of Leigh Perkins, the owner of Orvis.  Perkins, another world class fly angler, bought Orvis in 1965 and made it what it is today.  It was then that the museum idea came to be.  In the 1970s the museum started publishing a magazine called The American Fly Fisher and it is still being published today.  It is a quarterly publication that covers all aspects of fly fishing; past, present and future.
Originally housed in the backroom at Orvis, the museum quickly outgrew the space.  In the 1980s the museum made its first move, but by the late 1990s they again outgrew their location.  From 2000 to 2005, the property of their current location was acquired and buildings were renovated or replaced.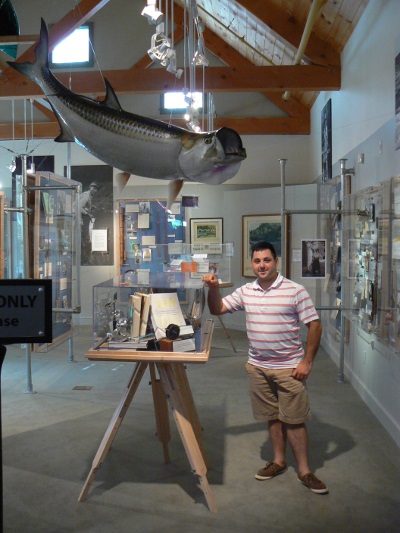 The Museum:
I was lucky enough to get a private tour of the museum from Pete and I was amazed at what I saw.  Housed in this building are fly rods, reels and flies used by all of the greats of this sport.  In cases is equipment that was used by Ted Williams, Babe Ruth, Helen Shaw, Bring Crosby, Lefty Kreh and Ernest Hemingway, to just name a few.  Every style and manufacturer of fly rods and reels is also represented here.  Bamboo, fiberglass, graphite and even steel rods can be seen.  Also on display is the largest tarpon ever caught on a fly rod, along with the rod, reel and fly that caught the fish.  Many of the items on display were donated to the museum by either the anglers themselves or by the angler's family members as a way of preserving the history.
Growing up we didn't have much, but what we did have were books and one of my favorite writers was Ernest Hemingway.  To see his rods was almost like meeting him.  Growing up in New Hampshire the Boston Red Sox were our home team and every kid wanted to be Ted Williams and here in front of me was his fly fishing gear.
One display that caught my eye was one that showed some of the classic flies that every fly angler seems to have.  In that glass case were two flies in particular that really struck me; the Clouser Minnow and the Dahlberg Diver.  Besides a few sunfish, the very first fish I ever caught on a fly was a Striped bass and it was caught using a Clouser Minnow.  Over the years that fly pattern has been used by countless anglers to catch everything from trout and pike in freshwater and stripers and redfish in saltwater.  I caught my very first pike on a fly rod using the Dahlberg Diver fly.  If you are going after large aggressive fish, in both fresh and saltwater, then this fly will do the job.  This visit was turning into much more than about fly fishing.  It was like re-living moments from my past.
As if the displays in the museum were not enough, the upper floor houses a reference library the boasts 7,000 books.  Here you will find copies of long out of print books that cover every aspect of fly fishing.  If you are looking for information on great fly fishing waters worldwide to fly tying and rod making, you will find it here.  There was one display that I noticed in the reference library that touched me deeply.  It was a series of flies tied by Project Healing Waters.  This group is dedicated to using the sport of fly fishing to help heal veterans and each of the flies represents the different medals and conflict ribbons awarded to those who have served.  Being a veteran myself, having served 12 years in the U.S. Army, this display stirred up all sorts of feelings in me.
The Mystique: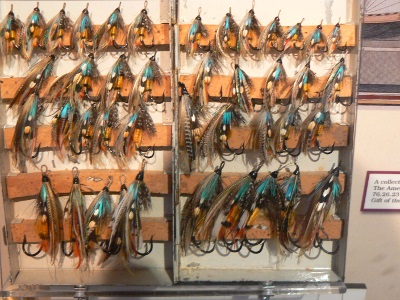 When I sat down with Cathi and Peter, I described my ability, or lack thereof, when it comes to fly fishing.  I also described my apprehension about getting involved with fly fishing in the first place; how I at first had a feeling of not belonging next to those other anglers with their fancy high priced rods.  Though I have long since gotten over those thoughts (or have I), I know that there are people out there who have those same thoughts and feelings.
Cathi responded to this by saying, "You have to remember that all of the great fly fishermen and women had to start somewhere.  They didn't always have the high end rods and reels.  They couldn't always make the perfect cast.  They got to where they are by constantly practicing.  Fly fishing is just like any other sport, the more you do it the better you get."
Both Cathi and Peter emphasized that it is not the rod and reel that catches the fish; it is the skill of the person using the equipment.  They both suggested that the angler use whatever equipment that they feel the most comfortable with and don't be afraid to make mistakes.  Making mistakes is how you learn.  They suggested that the person new to fly fishing should not run out and buy the most expensive, top of the line gear to start with.  "What if you find out that fly fishing is not for you?  Then you have wasted money on something you will never use", Cathi said.  She went on to say, "The lower priced equipment available today has really built an interest in the sport and a lot more people are giving it a try".  Peter added, "If you break a $25 rod it is a lot easier to take then if you break a $300 rod".  If it makes the reader feel any better I don't own a high priced fly rod and reel.  The rods and reels that I use are very good, moderately priced set ups that have served me well over the years.  I have taken trout, bass and pike in freshwater and Striped bass in saltwater with my equipment and I have no complaints.
To help build interest in the sport, and in an effort to help dispel the many myths that revolve around the sport of fly fishing, the museum hosts numerous workshops and demonstrations throughout the year for both adults and children.  The programs involve talks from experts in the field and cover everything from casting instructions, to rod building to fly tying.  In fact the museum hosts an annual fly tying event where everyone can get involved.  This event teaches everything from the very basics all the way up to techniques showing how to put that special look or action on your fly.  What really caught my attention was when Peter told me that they sometimes allow people, during some of the casting programs, to try their hand at casting a line using some of the equipment of yesteryear, namely old bamboo rods.  How cool would that be?  What would it be like to make a cast using the same type of gear that was used by people such as Ernest Hemingway and Ted Williams?
Whether you are an expert fly angler, a beginner, an angler like myself who is more dangerous to the people around me than I am to the fish, or you are that person that is just curious about what those people standing in the middle of the river are doing, you owe it to yourself to visit the American Museum of Fly Fishing.  No matter how much you think you know you are sure to learn something new each time you visit.  Maybe you will relive memories or stir up feelings just as I did.
By Dana Benner