As you get ready to head out on the water this weekend for some fishing, you might want to make sure that boat access hasn't been pulled by the state officials. South Dakota Game, Fish and Parks roped off it's own boat ramps to more than 20 non-meandered lakes in response to a recent decision made by the South Dakota Supreme Court. The decision stems from a lawsuit by landowners in Day County, who don't want their private lands opened to public use.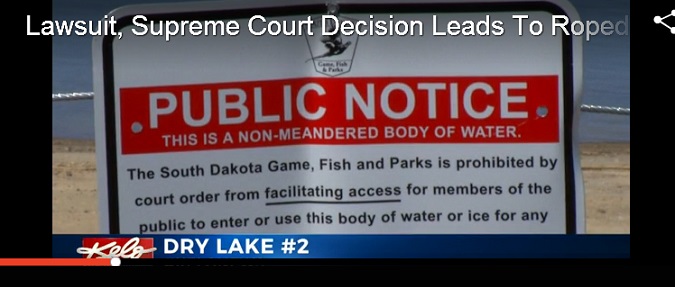 "The Supreme Court order also says that the Game, Fish and Parks can not facilitate access to non-meandered bodies of water and that's what we have here on Dry Lake #2," Regional Conservation Officer Mike Klosowski said.
The following lakes in 11 South Dakota counties have had their public accesses blocked or removed:
Caseys Slough, Cottonwood Lake GPA, Dry Lake #1, Dry Lake #2 and Swan Lake in Clark County;

Deep Lake and Goose Lake in Codington County;

East Krause Lake, Lynn Lake, Middle Lynn Lake and Reetz Lake in Day County;

North Scatterwood Lake in Edmunds County;

Three Buck Lake in Hamlin County;

Bullhead Lake, Cattail-Kettle Lake and Cottonwood Lake in Marshall County;

Keisz Lake in McPherson County;

Grass Lake, Loss Lake, Scott Lake and Twin Lakes in Minnehaha County;

Twin Lakes in Sanborn County;

Cottonwood Lake and Mud Lake in Spink County; and

Dog Ear Lake in Tripp County.
Visit this link to keloland.com to see the video on this challenge to water access: http://www.keloland.com/news/article/preview/lawsuit-supreme-court-decision-leads-to-roped-off-boat-ramps