By Dana Benner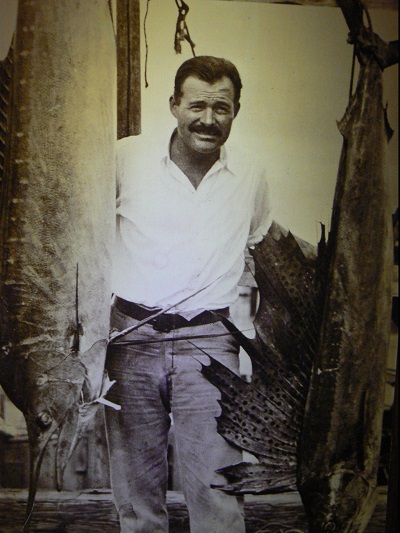 Now I know you are looking at the title and saying, "What does this have to do with fishing?"  I don't blame you, but read on and you will see.  No other writer, living or dead, has done more for the sport of fishing than Ernest Hemingway.  Whether it was with a fly rod or terminal tackle; freshwater or salt, Hemingway did it all and he incorporated his love of the sport and his adventures in almost all of his stories.  Every good outdoor writer has someone that they look up to; someone who they wish to emulate and Ernest Hemingway is mine.
As a child growing up in a small town in New Hampshire my family didn't have a great deal.  At the time there was no such thing as the internet or video games and the television only got four channels, if you were lucky.  What we did have were books.  I always had a keen interest in the outdoors and I spent many hours fishing, exploring or reading about it.  I was drawn to the adventures that Hemingway wrote about.  Hemingway was one of the biggest influences on me and I think that it was because of him that I became a writer.  He didn't just write about the big fish he caught, he actually told a story.  Fishing became the metaphor for life in general.  His attention to detail drew you into the story.  You actually lived the experience through his prose.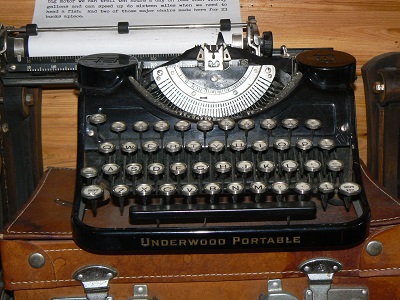 There has been a great deal written about Ernest Hemingway, not all of it flattering, but don't we all have our issues?  Hemingway was, what we would call today, a free spirit.  He lived his life on the edge and that is what makes his writing so powerful.  Sadly his life ended tragically and it is sad that many people spend too much time dwelling on that fact and not enough time celebrating his life and what he gave to us; is love of life and fishing.
I had not thought too much about writing this piece until I made a trip to the American Fly Fishing Museum in Manchester, Vermont.  As I made my way down the aisles, looking at the gear of old and reading the stories about some of the sport's greatest anglers, I came upon a section regarding Ernest Hemingway.  There in front of me was a few of his rods and reels, flies and other items.  There were photos of some of the fish he had caught, using rods made of bamboo.  None of that high tech stuff we use today.  It was man against fish back then, and often times the fish won.  I have no idea how long I stood there in front of the photos and gear of the man I looked up to, not only as a writer, but also as an angler.  When I got home I dug out those old books and began reading them again.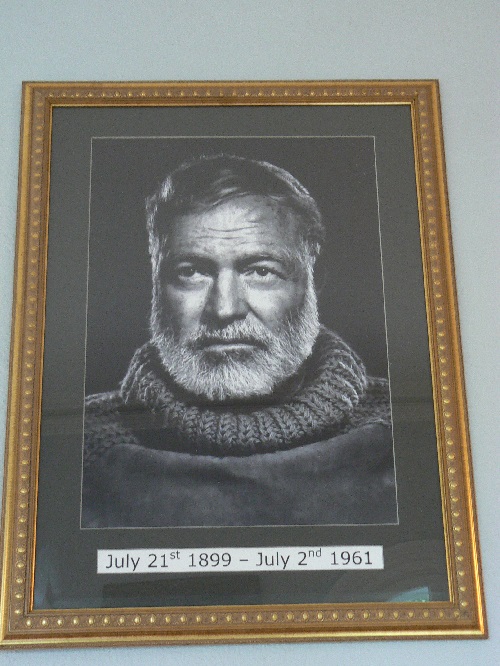 Once again life took ahold of me.  I had stories and adventures of my own to write about.  I had to come back from Hemingway's world of fishing for marlin and mahi off the coast of Cuba and Key West, but life has a way of doing strange things.  I got an assignment for a few magazines that took me to Florida, but not just Florida, but to the Florida Keys.  This couldn't be true, but it was.  My plane landed in Ft. Lauderdale and I headed south.  Though I had to make stops along the way, Key West was my final destination.
After checking into my hotel, my first stop was 907 Whitehead St.; the Ernest Hemingway Home.  This house harkens back to a time when Key West was less hectic, yet just as exciting.  There was, nor is, any air conditioning.  Narrow stairs lead up to an immense library, as Hemingway was a big reader.  There was one of his typewriters and photos of the man himself.  For me it was almost like Hemingway was there showing some "would be" writer the ropes.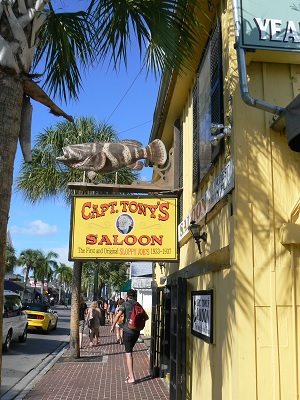 Leaving the house, many people asked me if I was going to visit Sloppy Joe's.  I actually had no desire to stop there.  Sloppy Joe's was Hemingway's "watering hole" and had become very famous because of this fact.  In 1936, Sloppy Joe's changed locations and has become a big tourist attraction.  That is not what I was looking for.  I wanted to walk in Hemingway's footsteps, as much as possible, so I headed to 428 Greene St., the original location of Sloppy Joe's.  This is where I found Capt. Tony's Saloon and what a pleasant find it was.  It is a drinking establishment that is pretty close to the type of bar you would have found in the 1930s Key West.  I bellied up to the bar, ordered a cold beer and just thought how this was pretty cool.  Perhaps Ernest Hemingway sat in this same general location.  I made a silent toast to Mr. Hemingway, finished my beer and headed on my way.
The icing on the cake would have been to get on a boat, head out into the open water and try my hand at marlin, mahi, sailfish or Spanish mackerel, but alas, this was not meant to be.  Remember, I was down here on business and time constraints didn't allow me time for fishing.  Perhaps I'll find myself down in the Keys again sometime.  If so, you know I'll go fishing.  It's what Hemingway would do.