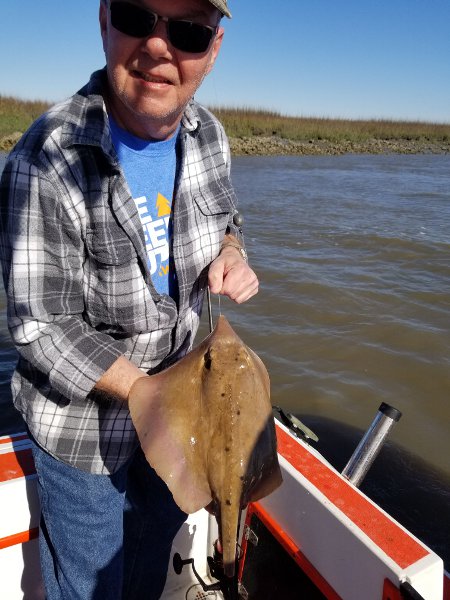 In the last piece of mine that appeared in ODU I said I was taking a break. I needed to decompress and get my head together.  That is exactly what I did.  I packed up and headed south to the south coastal region of Georgia where I spent 10 days hiking, exploring and fishing.
My plane landed in Jacksonville, Florida and from there I headed about an hour north to the town of Brunswick, Georgia; a place that was to be my home for the next 10 days.  This area of Georgia was like nothing I had ever experienced before.  There are pine trees here that produce cones the size of small pineapples and Live oaks draped with Spanish moss.  The squirrels, though gray like the ones back in New Hampshire, are smaller and they have a brown tint to their fur.  Deer are all over the place and I saw many that had young.  Then there was the fishing.
The freshwater ponds of the area hold catfish, Largemouth bass, crappie and bluegills, while the ocean holds species unlimited and it all depends on if you are fishing inshore or offshore.  Unlike in New Hampshire, the freshwater shore angler needs to be alert for Water moccasins, rattlesnakes and alligators.  Then there are the mosquitoes and "No See-ums" (Sand gnats) that hit you in swarms and they take no prisoners.  Ticks are also a big problem here just like back home.  Here in Georgia, the Lone Star tick is the most numerous followed by the Black-legged tick (Deer tick).  Before heading out spray yourself with a good insect repellent.  On this trip I was carrying both Green Mountain Tick Repellent and Just Naturals Natural Bug Spray.  Both products are DEET free and I'm happy to report that I wasn't bothered by ticks the entire time.  This is not a place for shorts and sneakers.  Long pants and a good pair of boots are in order here.  While in the woods I wore 5.11 Tactical ATAC 6" Storm Boots.  They gave me plenty of support and some moderate protection from possible snakes.

I decided to take a day ad head out on the ocean to do some fishing.  I teamed up with Captains Dave and Adam Hust to try my hand at fishing the South Georgia waters with Mad Shark Charters.  Along with me on this trip were two other anglers; Rob and Jake.  It just so happened that Rob was from Maine and Jake was a fellow New Hampshire guy.  The trip was scheduled to last four hours and we were to leave at 3:00pm.  Capt. Dave Hust explained that besides shark, we would also try our hand at some of the local redfish (Red Drum) population, which sounded good to me.  Mad Shark Charters provides all of the gear so all I needed to do was get down there.
I soon found out that this was the first time that Jake had ocean fished.  In fact, it was the first time he had ever fished.  I was hoping it would be a memorable trip for him.  Unfortunately, it wasn't looking good.  Two days prior air temperatures were in the high 70s. Suddenly the temperatures dropped 20 degrees in a matter of 24 hours.  Add to this there had to be some effect from the storm that was hitting the Northeast at the time.  As it was to turn out, I was right.
Due to seven to eight foot seas the captain decided to keep us in the relative safety of the bay, fishing in among the numerous islands.  It reminded me a great deal of fishing in Louisiana.  When we arrived at our first stop we all set our lines, which were medium action spinning outfits.  Onto the 20 pound braided line was tied a 3/0 circle hook.  As we were fishing for redfish and Black drum, our bait consisted of shrimp and under normal conditions this would have brought in redfish, Black drum and Whiting.  But this definitely was not normal conditions.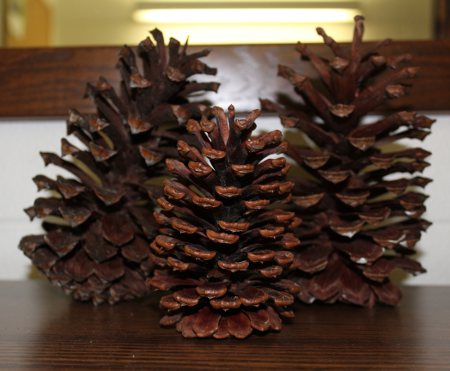 Within the first 10 minutes I had a hit.  I set the hook and the fun began.  It wasn't big, but it did put up a little fight.  It turned out to be a Sting ray that weighed somewhere between two and three pounds.  As it was to turn out, that ray was the only fish we would catch that day.
Though the fishing wasn't the best, numerous types of wildlife were spotted to include dolphins, Great Blue heron, egrets, White pelicans, sandpipers ad terns.  We also paid a visit to Sapelo Island lighthouse.  I don't know about Jake and Rob, but I had a good time.  Yes it would have been wonderful if really had caught some fish, but this is fishing.  You can control many aspects of any fishing trip, but the one thing you can't control is Nature.  It will do whatever it wants and you just have to live with it.
My time in Georgia was coming to an end.  Though an article did come out of this trip, it was not my main goal.  It just happened.  The purpose of this trip was to allow me to re-focus and remember what I do and why I do it.  I think I'm ready to push on.  In other words, "I'm back".