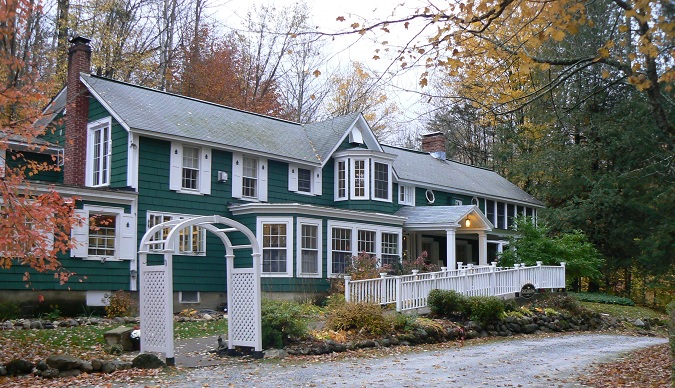 October is a great time of year in northern New England.  It's not too cold, the leaves are turning colors, it is the official start of hunting season and the water isn't frozen (yet) so you can get in some more fishing before the cold sets in.   It was about 2:00PM when I left on the three some odd drive to Chittenden, Vermont and the Fox Creek Inn, which was to be my home away from home for the next few days.  The inn, which is a very beautiful bed and breakfast, is owned and operated by Susan Smart.  Originally from Montana, Susan is an avid angler and knows how to treat the visiting outdoorsperson.  No television and quiet is what will great you at the inn.  My kind of place.  After checking into my room I grabbed a cold Long Trail ale and settled in.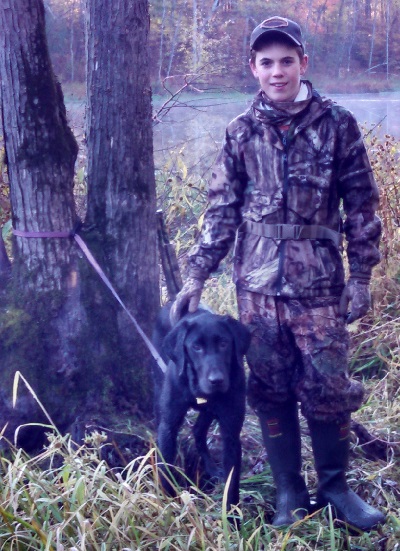 This trip had been in the works for a while now.  I was meeting up with my friend Matt Trombley to spend a couple days hunting waterfowl and fishing the inland region of Vermont.  Matt knows the woods and waters of Vermont like the back of his hands and though Matt is a professional firefighter, his true love is hunting and fishing, and it is because of this love he started a guide service called 3rd Alarm Fishing Charters.  Matt mainly does his charter service during the warmer months on Lake Ontario and Lake Champlain, but come fall he loves to duck hunt.  He has been trying to get me out to hunt ducks with he and his son Logan for a while and it finally happened.
Our morning was to be spent hunting mainly Wood ducks at a local beaver pond.  With this in mind I packed my bag accordingly.  My gear consisted of my Mossberg 500, 12 gauge pump with a modified choke.  My ammunition was both Remington three inch Nitro-Steel and three inch Hevi-Shot, both in #4 shot.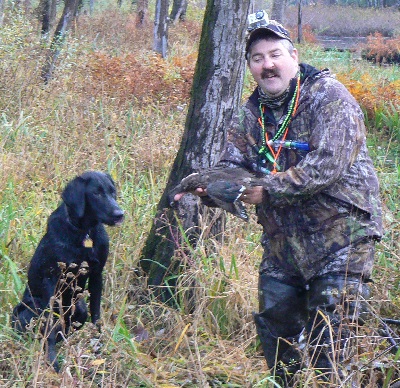 I also brought along my Haydel W-81 Wood Duck call.  It turned out I wasn't going to use the call on this day, but I never go on a duck hunt without my calls.
At 3:00am when my alarm went off.  I was meeting with Matt and his son, Logan at 5:30AM at a pre-determined location and then we were to walk into where hopefully the ducks were.  Along with us on this hunt was Matt's Lab Brodie.  Getting to this area proved more difficult than anticipated because of two inches of rain that hit the area the previous day, turning a normally passable road into a muddy quagmire.  Despite this set back, we made it into the remote location unscathed.

Though it was legal shooting time, due to cloud cover, it was still dark when the first four Wood ducks came flying over, which I heard well before I saw them.  I took two shots and promptly fell on my butt when my foot slipped in the mud.  Needless to say the birds kept on flying and I became the joke of the morning.  As time went on more Woodies and even a few Mallards flew over, all flying high and away.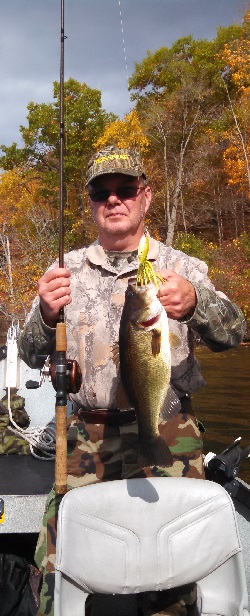 Just when we thought the flight was over a single Wood duck flew low and fast and Logan took the shot.  Once again the duck flew on to live another day.  I think Logan was bothered more because he missed his shot in front of me than he was by simply missing.  I quickly eased his mind by re-confirming that I had missed every shot I took up until then.  Finally a female Wood duck came low and fast from my right and I was able to drop it and Brodie made an excellent retrieve.  At around 9:00AM and we decided to pack it up and get ready to go fishing.  This had been pass shooting at its best and it made me realize that I need to spend more time on the clays course.  Despite the fact that I only harvested one duck on this outing, which had more do with my inability than it was to the numbers of opportunities that presented themselves, I had a good time.
After dropping off Brodie, we hooked up Matt's drift boat, loaded our fishing gear and headed to Burr Pond.  Here we would be targeting both bass and northern pike.  My gear for this outing consisted of four rod and reel setups: one spinning and three baitcasting.  My spinning rod was a Shakespeare Tiger seven foot, medium action coupled with a Shakespeare spinning reel spooled with 12 pound test Stren Super Tough monofilament.  To this setup was tied a Mepps Timberdoodle spoon in a firetiger color pattern.  My baitcasting setups consisted of a Quantum Energy medium-heavy action six foot, six inch rod coupled with a Quantum Energy reel spooled with 12 pound test Stren line.  To this was tied a white, and then gold, ½ ounce spinnerbait; a Quantum Energy seven foot medium-heavy rod with a Quantum Energy reel spooled with 15 pound test Stren line with a Storm Fire tiger Chug Bug; and a Quantum Pro-Contour five foot, nine inch medium action rod coupled with a Quantum EX500 reel spooled with 15 pound test Stren line.  To it I tied a Storm Wiggle Wart crankbait.
A stiff wind made boat control difficult.  Despite this, with Matt on the oars, we made it around the pond.  Cast after cast was made to the edges of weed beds.  The heavy weed cover found throughout the pond made using the crankbait out of the question.  A massive bird's nest took out the setup that had the Chug Bug on it.  I just kept casting the spoon and the spinnerbait.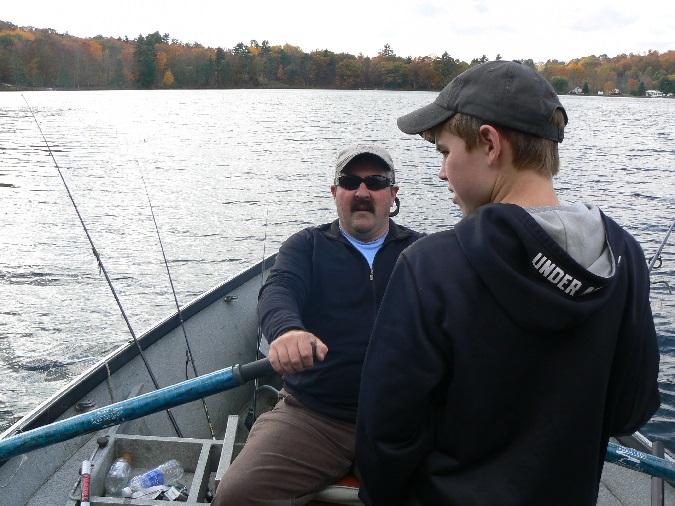 With no fish I decided to replace the white spinnerbait with a gold one and that did the trick.  Casting between a beaver lodge and a partially submerged tree I finally got a nice largemouth to take my offering.  After landing the bass, which was somewhere around three pounds (we didn't weigh it), we took a photo and released it back to where it came from.  As it was to turn out, this was the only fish to be caught that day.  We had to leave the water because both Matt and Logan had previous appointments.
Despite equipment hang ups, less than ideal weather and very poor shooting on my part, I was thoroughly enjoyed my trip to Vermont.  This was exactly what hunting and fishing is all about: good friends, great country and experiences that last a lifetime.  Take advantage of New Hampshire's neighbor to the west.  Vermont has a great deal to offer anyone interested in the outdoors.
By Dana Benner