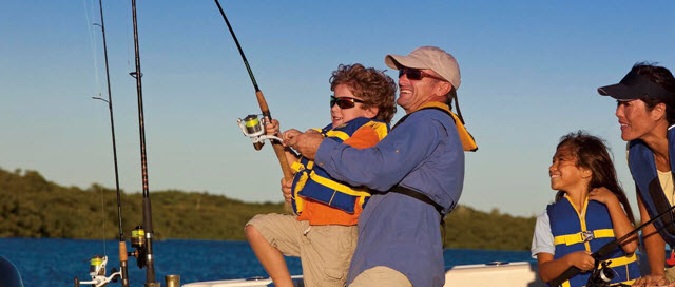 The Recreational Boating & Fishing Foundation today announced the results of a new research study completed by Kantar Millward Brown in partnership with Disney Advertising Sales, showing encouraging results for Take Me Fishing brand messaging. To increase fishing and boating participation, RBFF is working with the Walt Disney World® Resort and Disney Media Networks with media placements across various linear and digital properties and on-resort branding.
KEY REPORT FINDINGS:
Engaging a diverse audience:

Audience members of varying age, status, gender and ethnicity showed positive results

Driving brand metrics:

Increased awareness

Increased brand favorability

Increased intent to visit TakeMeFishing.org

Driving brand attributes:

Makes me want to try fishing and/or boating

Makes fishing and/or boating look fun

Makes learning to fish and/or boat look easy

Makes me think fishing and/or boating is for someone like me

Enhancing positive impressions:

Great, fun way for families to spend time together

Great way to get kids interested in the outdoors and learn about nature

Breaking down barriers to entry:

Lowered perception of fishing being expensive

Lowered perception that fishing and/or boating is too time consuming

Engaging Creative:

Each piece of creative tested outperformed Kantar Millward Brown norms in likeability, relevancy, believability and more.
"When we first began our strategic alliance with The Walt Disney Company, we knew that aligning with such a strong brand would raise awareness of our brand to new levels," said Frank Peterson, RBFF President & CEO. "Disney's audience is well-aligned with who we want to bring to the water for fishing and boating experiences and our shared corporate values make this a perfect pairing. This study further validates our original motivations for working with Disney and excites us for what's to come."
The Kantar Millward Brown study shows positive results from exposure to Take Me Fishing advertising on Disney-owned media platforms, including rises in Take Me Fishing key metrics such as brand awareness and intent to go fishing and/or boating. The impact of Take Me Fishing brand messaging is most impactful when the consumer encounters touchpoints across multiple platforms.
More information about the Take Me Fishing-Disney relationship can be found on the RBFF corporate site.
Related:
Take Me Fishing Hooks Walt Disney World Resort
MD wants to take shells for oyster project from prime fishing reef