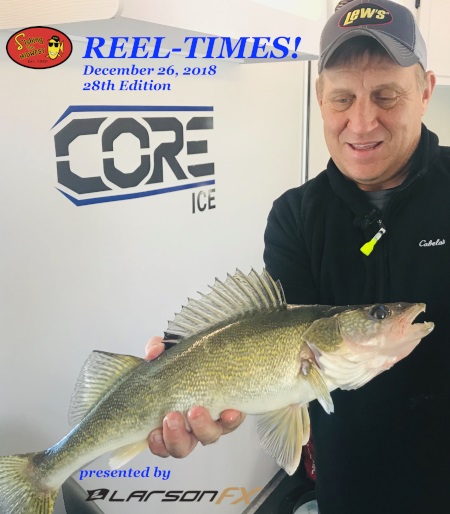 GREAT ICE FISHING & TV SEASON IS HERE!  The ice fishing season is off to a torrid start across the Midwest with reports coming in from lots of places indicating outstanding fishing action so far this winter!  In this REEL-TIMES presented by Larson FX, we'll detail some of the good action that we have been fortunate to get in on.  The close of 2018 and the beginning of 2019 also means the launching of another season of Fishing the Midwest TV.   Below, we share a listing of coming show topics that you'll be able to see on Fishing the Midwest TV, 2019.   So please read on, lots of current Fishing the Midwest information here!
EARLY ICE HAS BEEN HOT!
Big Stone Lake Panfish! 
Fishing the Midwest TV host Mike Frisch fishes Big Stone Lake on the Minnesota/South Dakota border several times every year.  Mike likes Big Stone because it's close to his home and, mostly, because the fishing is usually good!
Recently, Mike was on the ice with Casey Dahl, a two-time Bass Pro Shops and Cabela's School of Fish graduate who lives near Big Stone.   Every year, at least one School of Fish graduate gets chosen to join on a TV shoot.  Casey and Mike fished with Tanner Arndt who guides for Artie's Fish House Rentals out of Ortonville on Big Stone's south end.
The three anglers had good fishing for Big Stone's perch and had some bonus big bluegill action.  Here are some of the particulars of their outing, according to Mike:
Regarding ice conditions:   We found ice conditions of around 12-inches of thickness in the couple spots we fished.  With little snow on the ice, we were able to move around the lake easily with Tanner's UTV pulling our CORE ICE house.
On fish location:  We were on the lake's south end in the basin, fishing water depths of around 12-13 feet deep. We made one move during the day to try to get away from some of the fishing pressure and traffic.  We found pretty clear water and with little snow on the ice to insulate noise and movement, it seems getting away from the crowds was key.  
About bait selection:  Tanner uses a unique one-two punch for his perch fishing, using a Rippin' Shad as a "call in" bait and then relying on a variety of tungsten baits tipped with spikes to trigger the perch into biting. 


                   Rippin' Shad                                               Banana Bug                                                  Mooska Jig
Big bonus:  Big Stone also has some big bluegills roaming the basin and the guys had a couple schools move through.  Some of these fish were well over 10-inches in length.  Those are "bigguns" anywhere in the Midwest! Much of the fishing action the guys had on Big Stone will be part of episode #2 of Fishing the Midwest TV, airing the second weekend in January, 2019.  In addition to ice fishing, the "Return to the Rock" episode features a couple of the TV season's biggest open-water walleyes.  You'll wanna see this action!
Red Lake Red Walleyes! 
A few days later, Mike was in northern Minnesota on famed Upper Red Lake fishing with Jesse Gamble and Mark Harmon, two of the guys instrumental in bringing the revolutionary CORE ICE fish houses to market.  The guys were chasing walleyes and filming a segment for  2019 TV episode #3.  Here, again from Mike's perspective, is a summary of the day:

About finding fish:  This was all about Mark and Jesse's "intel" as one of their dealers had a "hot spot" they shared with us that had been producing walleyes for a couple weeks.  We went out from the south shore, set up, and almost immediately starting catching fish!
 "Red Lake Red":  Long-time Fishing the Midwest TV producer Brian Dellis and I stopped at Northland Tackle in Bemidji on the way north.  Brian interviewed Northland Tackle founders John and Duane Peterson regarding Bob Jensen's Hall of Fame angling career.  Portions of those interviews will be part of another 2019 TV episode devoted to Bob and his nearly 30-years on TV.
While at Northland, we acquired some of the new Glo-Shot Jigs and were told that the new Super-Glo Redfish color was the hot pattern for Red Lake.  Jesse started with that lure and, when the first four walleyes came through the hole Jesse was fishing, Mark and I were quick to switch to the same jig!  The lure produced throughout the day as we caught well over two-dozen walleyes in just a few hours.  The red color is now known, at least in the circles we run, as "Red Lake RED!"                                                                 
Mike , Mark,  and Jesse & some Red Lake gold!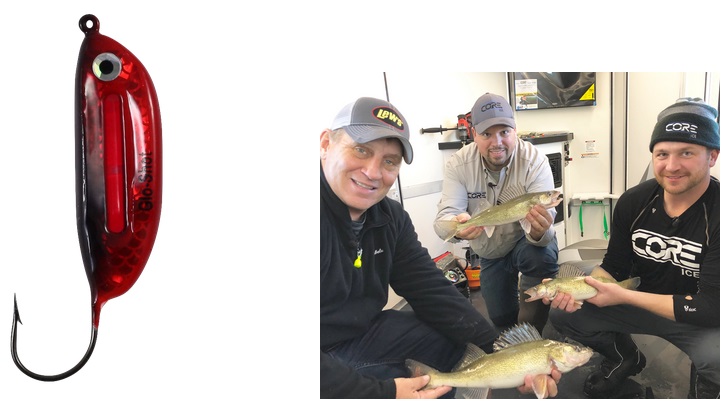 First Impressions:  We've been fishing from the new 6519 AT  CORE ICE fish house a bunch lately. Initial impressions of our new house include, that, as advertised, it is extremely lightweight, yet durable as we've been able to easily pull it around the lakes with ATVs.  Second, it's got the perfect floor plan for fishing as three anglers can fish comfortably from the boat-style swivel seats with the holes positioned perfectly for jigging and for conveniently working additional "dead" rods too.  Lastly, it's very heat efficient, as we've ran the heater minimally so far!   Click on the guys photo above to learn more about CORE ICE and find a dealer near you.  Also, scroll over and click the lure images above to learn more and purchase the hot lures.
REEL GOOD REEL!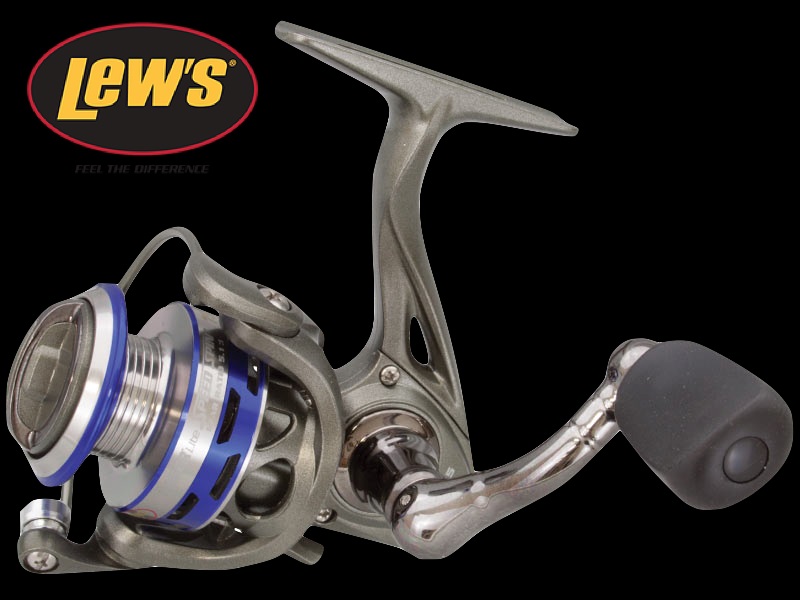 Lew's Laser Lite! 
We started using  the Lew's Lazer Lite Speed Spin reels this winter on our ice jigging rods and have been extremely impressed!  The LLS50 and LLS75 models are the perfect sizes/weights for use on small ice rods and they're designed to fish in all weather conditions.  These little gems are butter smooth to the turn, with great drags too.   The best part?  They retail for under 30 bucks so you can outfit several ice rods affordably. All we can say is, better get yourself some!
To learn more about this, and other Lew's products, hover over and select the reel image above to visit their website.
REEL GOOD TV COMING SOON!
2019 Fishing the Midwest TV nears! 
Fishing the Midwest TV for 2019 starts airing the first weekend in January on several FOX SPORTS outlets, MidCo, and the World Fishing Network.  You can also catch us on a variety of network affiliates too.  In fact, Fishing the Midwest has the most comprehensive carrier coverage of any regional fishing TV show in the Midwest!
Go to our website's "Award Winning TV" page here to find a complete listing of carriers and times:  http://www.fishingthemidwest.com/award-winning-tv.
Here is a sneak-peak at a tentative list of show topics for 2019.  This is subject to change, however, as we are filming ice episodes as this goes to press and will adjust to get current ice shows on air as soon as we can!
2019  TENTATIVE  Fishing the Midwest TV Episode Pairings :
EP1 –  Hannah's Battle Battle II & Season Preview

EP 2–  Return to the Rock

EP 3 – Walleyes in Red & the Return of the Anchovy Kid!
EP 4 – Sakakawea Shines!
EP 5- Clear Lake – an ice fishing smorgasbord!
EP 6 – Military Appreciation Week & Clear Water Tips
EP 7 – Boards, cranks, perch & Ice crappies
EP 8 – Rollin' on a River and Weedline Largies
EP 9 – Our Changing Fishing World
EP 10 –Shane's Show & A Hunting Vacation
EP 11 –  Adaptable Bassin & Back to Sak
EP 12 – Fishing the Midwest: A look back and a look ahead!
EP 13 – Smallies on the Line & A Season Recap!
BIG GEAR GIVE AWAY! 
2019 TV Season Give Away! 
We are giving away a BUNCH of fishing gear!
Included in this give away is a rod and reel, tackle, FTMW clothing and much more as part of our 2019 TV season give away!
Two easy steps gets you entered:
1) subscribe to this newsletter using the "SUBSCRIBE" icon in  the upper  left-hand corner.
AND
2) like us on Facebook here https://www.facebook.com/fishingthemidwest/
**Must complete both steps to enter!
The drawing will be held in early April, just past the conclusion of the 2019 Fishing the Midwest TV season.