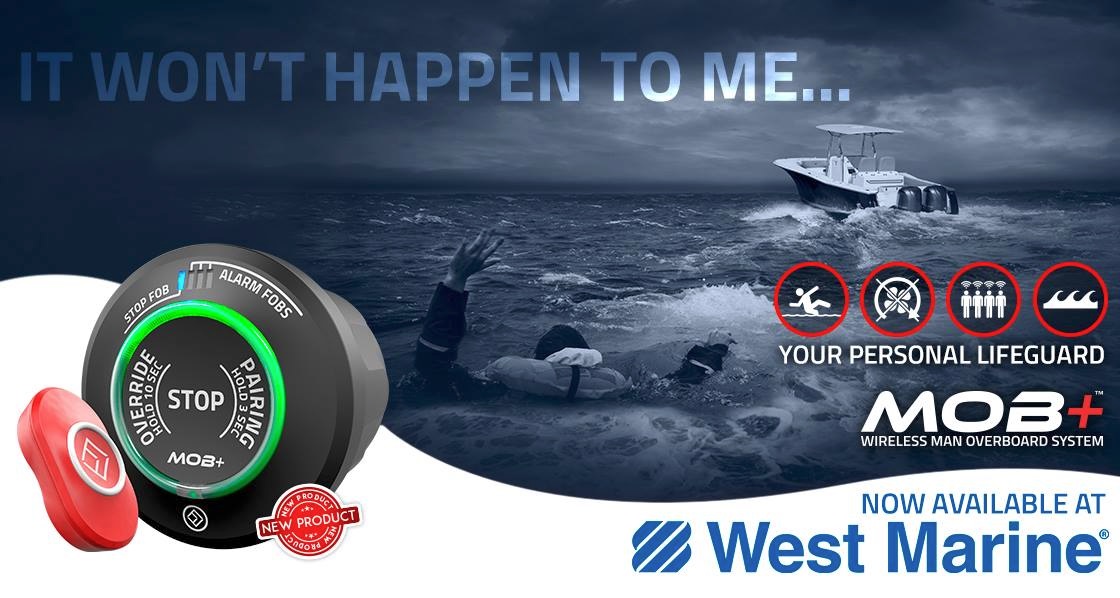 10/24/2017 – POMPANO BEACH, FL – FELL Marine, wireless boat safety innovator, is proud to announce that their wireless man overboard system, the MOB+, is now available through West Marine and West Marine Pro.
"West Marine has been an amazing partner working with us to reach all boaters in need of additional marine safety equipment and we are excited to be working with them," said FELL CEO Christian Frost. "West Marine's distribution network of over 200 retail locations, online presence and wholesale division (West Marine Pro) will help FELL reach every corner of the USA."
The MOB+ Wireless Man OverBoard system is an innovative, ABYC-compliant, life-saving safety device for boats. It provides greater freedom of movement than a traditional kill switch lanyard, and stops the engine should the operator fall overboard. Up to four xFOB™ units can be connected to the xHUB™ at the same time, with one unit acting as the captain's stop unit, and the additional three as alarm units for passengers.
The system consists of an easy-to-install xHUB (mounted on or near the boat console) and a wearable xFOB. The two communicate wirelessly with each other and stop the engine when the xFOB is submerged in water or is beyond range of the xHUB. The xFOB can be worn on the wrist, around the neck, or clipped to a PFD using either the xBAND™ or xTAG™ accessories. The waterproof xFOB has more than 300 hours of battery life, and is powered by an easy-to-change standard coin cell battery. The xHUB connects to the boat power (12V-24V) and to the engine stopping system. The system is intuitive and easy to use through a one-click user interface and compatible with all major outboard and most sterndrive engine brands.
West Marine customers now have access to the entire line of FELL Marineproducts, including their MOB+ Basepacks, xFOBs, xBAND or xTAG accessories, online on West Marine's dedicated FELL site: https://www.westmarine.com/fell–marine.
For more information about FELL Marine's products and services, go to www.fellmarine.com, www.fellmarine.com/blog/ and www.facebook.com/fellmarine. Join the boating enthusiasts dedicated to make boating safer without compromising their freedom!
For more information regarding media opportunities please email William Schwarz at media@fellmarine.com with your request.
To contact Paul Petani, Americas Sales Director, email him atpaul.petani@fellmarine.com or call him at 615-337-9103.
###
About West Marine
West Marine carries more than 110,000 marine products, ranging from the rope that started it all, to the latest in marine electronics. They strive to be the best supplier of boating-related products and services that provide outstanding value to all their customers.  West Marine Pro is the wholesale division of West Marine. They are proud to say that their customers have made West MarinePro one of the largest wholesale distributors of marine products and accessories in the world.
About FELL Marine Inc.
FELL is a Norwegian and US based developer and manufacturer of marineelectronics. FELL Marine Inc. is a subsidiary of FELL Group AS. FELL Group AS is incorporated in Norway, and its principal subsidiary is located in the US. FELL, FELL Marine, MOB+, xBAND, xTAG, xHUG, xFOB, WiMEA, AutoMOB and UniqueID are trademarks of FELL AS and/or its subsidiaries.
For more information, visit FELL Marine's virtual pressroom at fellmarine.com/newsroom.
Link to press kit and media files here.