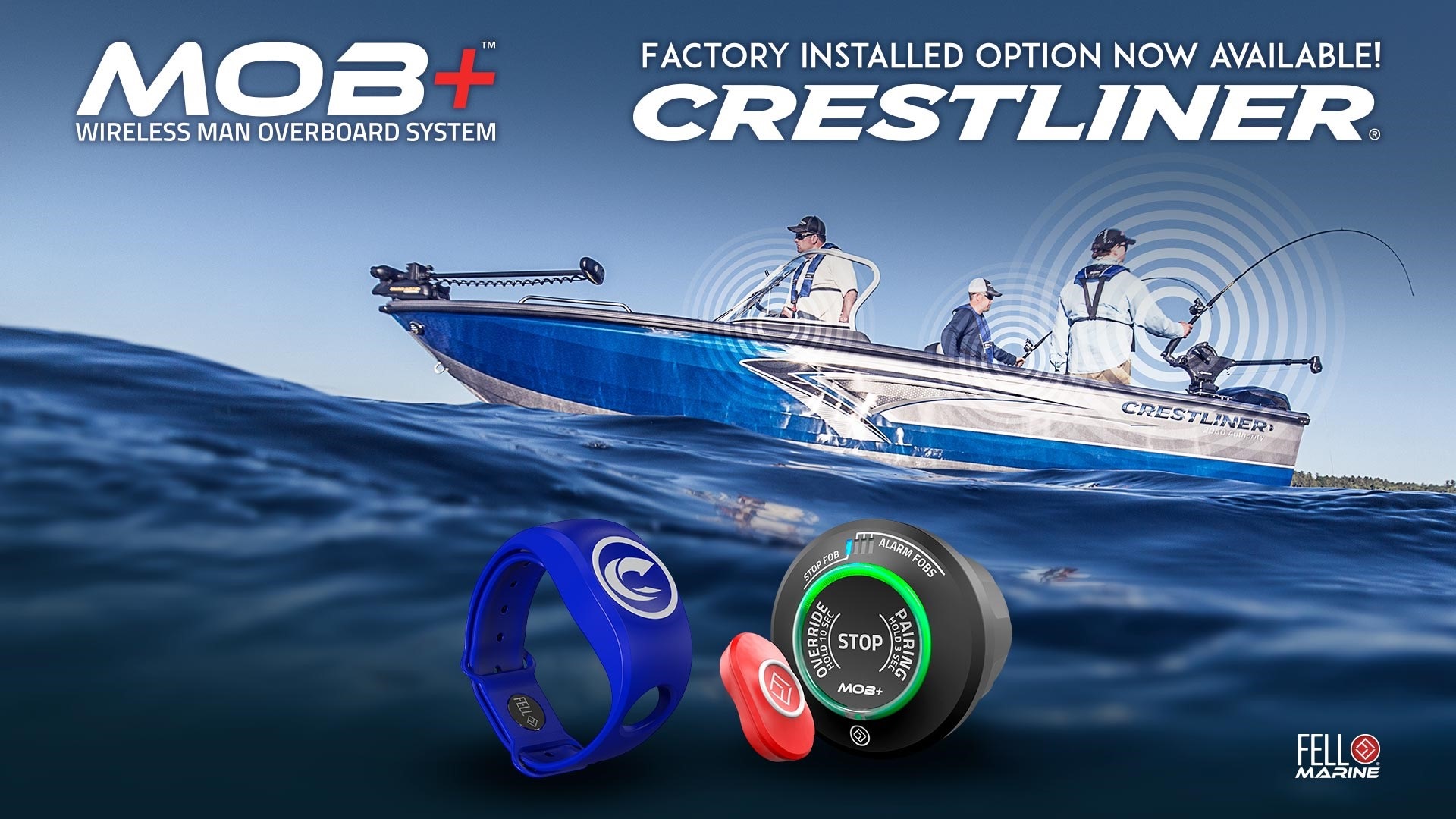 Building upon the introduction of its GEN II series at IBEX last year, FELL Marine proudly announces it is adding Crestliner to its fast-growing list of OEM partners. Starting with all of it's Deep V models manufactured at its New York Mills facility, Crestliner dealers will be able to order the MOB+ Wireless Man Overboard System as a factory installed option on 2018 models.
Crestliner, part of the Brunswick Freshwater Boat Group, has a long history of introducing new and innovative features. With its origins in Minnesota, the land of 10,000 lakes, Crestliner boats are trusted by anglers around the world to safely navigate large expanses of open and sometimes frigid water.
"Crestliner is fully committed to safe boating, and believes the MOB+ system brings an entire new level of safety to boaters. It's a no-brainer, " said Jake Mirabal, Product Manager for Crestliner. "By wearing a very small FOB device, both driver and passengers are protected should they fall overboard, and now they have the freedom to move around the boat. This is a great option for people who fish alone, or if you want added protection for your family or even your pets."
"We are very excited to be working with Crestliner. Their Pro Staff used the MOB+ all summer and they were very pleased with the ease of use, quality, and reliability of the system", said Christian Frost CEO of FELL Marine. "We think this will help establish the MOB+ technology as the new standard in engine cutoff devices and will allow Crestliner to provide the highest level of safety at a very affordable price to their customers"
About FELL Marine's MOB+
The MOB+ Wireless Man OverBoard system is an innovative, ABYC-compliant, life-saving safety device for boats. It provides greater freedom of movement than a traditional kill switch lanyard, and stops the engine should the operator fall overboard. Up to four xFOB™ units can be connected to the xHUB™ at the same time, with one unit acting as the captain's stop unit, and the additional three as alarm units for passengers.
The system consists of an easy-to-install xHUB (mounted on or near the boat console) and a wearable xFOB. The two communicate wirelessly with each other and stop the engine when the xFOB is submerged in water or is beyond range of the xHUB. The xFOB can be worn on the wrist, around the neck, or clipped to a PFD using either the xBAND™ or xTAG™ accessories.
The waterproof xFOB has more than 300 hours of battery life, and is powered by an easy-to-change standard coin cell battery. The xHUB connects to the boat power (12V-24V) and to the engine stopping system. The system is intuitive and easy to use through a one-click user interface and compatible with all major outboard and most sterndrive engine brands.
For more information about FELL Marine's products and services, please visit FELLmarine.com.
About Crestliner
Located in Otsego, Minn., Crestliner boats and pontoons are crafted with an uncompromising mix of functional design, all-welded aluminum construction and a relentless commitment to excellence. Since 1946 Crestliner has been making boats forged with strength and defined by durability. As a world-wide leader, Crestliner continues to redefine the industry with boats built to last. A testament to our quality and craftsmanship, Crestliner has received the CSI Award of Excellence in Customer Satisfaction for Aluminum Outboard Boats for 10 consecutive years. Learn more about Crestliner and its line of boats by visiting crestliner.com.
Crestliner is a division of Brunswick Corporation, a leader in the recreational marine industry, brunswick.com