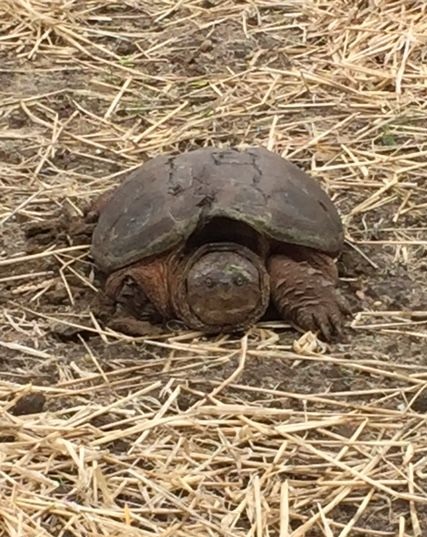 It was Father's Day according to the calendar.  My daughter had other plans (we celebrated earlier) so with that said, I took this "Get out of Jail Free" day and went fishing.  It was 8:00am when I packed my "trout" box and my spinning rod into the truck.  While I always intend to catch fish, this day was just a chance to get away from my "to do list" and article deadlines.  I needed to decompress.
When I arrived at the Contoocook River in Henniker, New Hampshire it was about 8:30am.  The only other fisherman had feathers; a Great Blue heron.  Man, I love watching those birds.  Anyway, grabbing my gear I headed down to my spot on the river.  The water was moving right along, but nothing to worry about.  Actually it was a good sign after last year's drought.  The skies were overcast, so much so that I thought it would start raining at any moment.  Though it was not hot, it was extremely humid.
In no rush, I examined the water and located what looked like a seam that would hold trout so I put a nice fat nightcrawler on the hook and made my first cast.  Weighted with one small split-shot I let the river take my bait to the trout that I knew would be there.  Nothing happened, but one cast doesn't make a fishing trip so I did it again.  On my fourth cast a nice 13 inch Rainbow took the bait.  With one trout down I did it again and again and then again with nothing to show for it.  I made one more cast and an 11 inch Brook trout found itself in my bag.  With that I called it a day as I very rarely go for the limit.  There will be other days for that.
Packing up I prepared to hit the road back home when my cell phone rang.  It was my daughter so I took the call.  For her to call me meant that it was something important.  Come to find out she awoke to find a very large snapping turtle sitting in her front yard and she wanted to know what to do about it.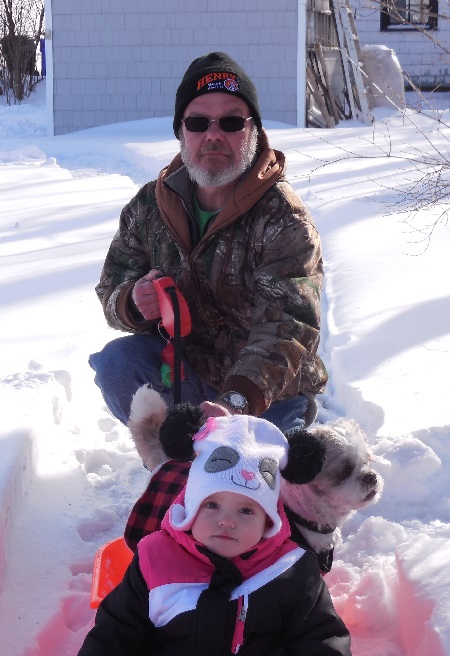 I explained to her to carefully get the turtle into a large plastic bin and then use this as a learning moment for my granddaughter Sophia.  I told her to explain to Sophia what she was doing and why and why it was important for Sophia to stay away from the turtle as it may bite.  Sarah did this and then, with Sophia's help, she took the turtle to a nearby pond and released it.
This incident reminded me of the times when I used these same types of things to teach Sarah.  We used to take walks in the woods looking for animals.  We searched for turtles and frogs when we went fishing.  We rescued Field mice and chipmunks and every winter we fed the birds and squirrels.
These are all special moments that need to be taken advantage of when they present themselves as they don't happen all of the time.  As a hunter and a fisherman I know that it is our responsibility to respect and care for the outdoor world.  That means taking every opportunity to learn more and if we can help, then we must do it.  This is what I taught Sarah when she was growing up and now she is passing it along to Sophia.
My Native American ancestors believed that we humans are part of a much larger circle and that is this concept that I believe in today.  It is how I live my life.  Whether it is rescuing a wayward snapping turtle, not taking your limit of trout every time out or picking up trash carelessly left by others, we need to respect the Earth.  That concept all starts with the lessons we teach our children.
By Dana Benner
Save