Reminder that ODU newest Ice mag cam out ten days ago. This edition hits on walleye, panfish, northern pike and trout fishing to start. Have you wondered how a transducer works and which beam to use? We have that covered. Plus we have assorted articles on improving you fish catching and lure selection. Enjoy. Link to this magazine – Click Here.  Download this magazine  – HERE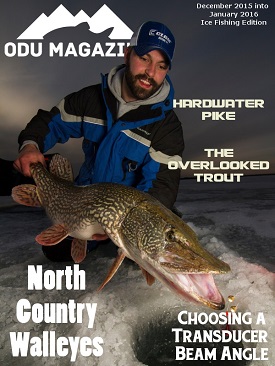 This edition of ODU Magazine is all about ice fishing with two specialty pieces. A reflection piece from Casting Carter and an article on how worldwide fish stocks are at risk.
As for ice fishing we have your covered.

The following articles are all in the edition of ODU Magazine:
Exploratory Missions, Pg. 7
An Ice-Fishing Buffet, Pg. 13
Catch Mid-To-Late-Ice Walleyes, Pg. 16
I'm Thankful for the Outdoors, Pg. 19
Tempting Stubborn Bluegills, Pg. 22
The Overlooked Trout, Pg. 27
Ice Fishing Memories, Pg. 31
Winter Bluegills, Pg. 34
Getting Ready for The Ice, Pg. 39
Safety on the Hard Water, Pg. 43
Choosing a Transducer Beam Angle, Pg. 47
Making Plans, Pg. 49
Horizontal Jigs, Knot Adjustments, Pg. 52
Turn to Dead Bait for Hardwater Pike, Pg. 58
Jigging for Pike, Pg. 60
Crappies on Ice, Pg. 61
The Right Pitch for Panfish, Pg. 67
3 Biggest Threats to Global Fisheries, Pg. 71
The High Road for Panfish, Pg. 78
North Country Walleyes, Pg. 81
Mining Underwater Gold, Pg. 85