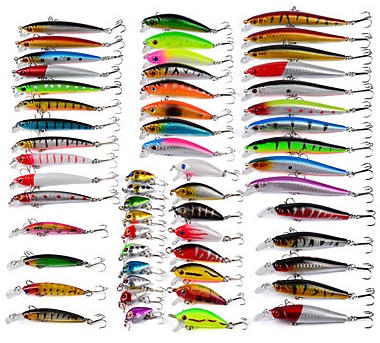 If there is a question that I get repeatedly from my customers its whether or not color makes a difference? My answer is somewhat complex; color matters but not in all circumstances. Some examples of that has a lot to do with water color, I just don't believe that fish see different colors instead they see contrast of colors and how the color relates to the water color.
Meaning that dark color worms for example look very much alike to a fish in the water; there is just no way can they tell the difference. Whether their black or dark green or dark blue I believe they look the same to a fish in the water. The difference lies many times in whether the worm is spattered or highlighted with red or silver or gold, as these colors cause a contrast of the color so it can be see easier by fish. I also believe that bass see things in the water differently that we do, placing something white next to a dark object makes it stand out to you and me. Bass I believe see colors that look alike in color in the water yet the contrast is the small difference as specs and flash change the color just slightly enough for a bass to see it easily. Hence the popularity of colors like watermelon red; the watermelon color matches the water in most grassy lakes, the flakes of red give it the contrast and the specs make it stand out to the bass.
The same can be said about clear bright color lakes, like deep clear water; bright colors match the water, flash and specs give the bait the contrast and make it stand out to a bass. Take a white swim jig put a trailer on it, say white swim bait with silver and blue specs and you have the same type of matching water scenario you do with dark water. The white matches the clear water and the specs give it contrast. Take either one of these examples and add the flash of a blade in gold or silver or red; make the bait vibrate and you have a contrast color with flash and vibration that bass love. Color matters but it has to make the bait become obvious to the fish with contrasting specs, blades and vibration to be successful.
Fish Lake Guntersville Guide Service
www.fishlakeguntersvilleguideservice.com
www.facebook.com/FishGuntersville
Email: bassguide@comcast.net
Call: 256 759 2270
Capt. Mike Gerry