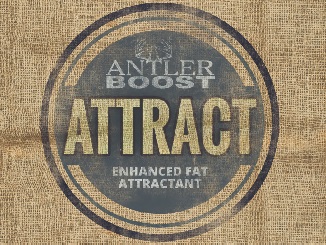 If you are looking for a top shelf attractant that works well year round, Antler Boost ATTRACT is the product for you! Whether your checking those trail cams in the summer to scout or in fall to see which bucks made it through the season, ATTRACT has it covered.
ATTRACT is not your run of the mill attractant, so what make it different? First off, Antler Boost does not formulate ATTRACT with any whole corn, cracked corn, or rice bran that forms the base for many of the attractants on the market. Those ingredients attract more of the non-target critters that eat up your attractant and waste your money. Critters like raccoons, hogs, squirrels, and bear. ATTRACT will keep your target species – deer – coming back for more.
We use a special attraction dust mixture and then add an enhanced type of fat that amps up the attraction in ATTRACT. The results are powerfully effective in getting that harvest list buck coming to your feeding destination spot.
ATTRACT comes in convenient 10 pound bags that will fit into your backpack and also in bulk sized 40 pound bags. The 40 pound bags are discounted 33% versus the 10 pound bags. For an additional 10% off (43% total discount!), you can purchase ATTRACT by the pallet (50 bags = 1 ton).
ATTRACT is the new forefront in the attraction industry. Combining innovative formulas and utilizing advanced techniques like the attraction dust, ATTRACT is sure to not only bring bucks in but, keep 'em there.
About Antler Boost:
Antler Boost – Deer Nutrition and Attraction Products were put on the market in March 2008 but was the culmination of years of practical research and development by founder Don Willis. Don wanted to put together a world class deer feed based on real, tangible science like he had done in other professional pursuits. Unfortunately, there was not great research on the subject available at the time so Don had to learn what he could from animal scientists and ruminant nutritionists across the country.
Being persistent, Don finally convinced one animal scientist to share with him some research that this scientist had done back in the early 90's on protein sources specific to antler development. Those principles have yielded tremendous results for customers all over the country.
For more visit www.antlerboost.com