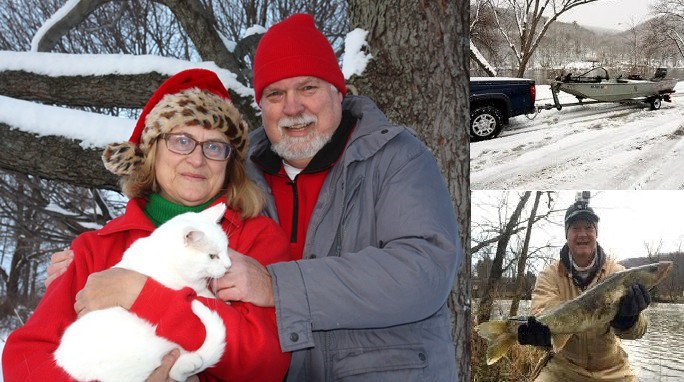 Well, it has been an unusual fall. Started out too warm with water temperatures higher than normal, therefore fish were slow to move into fall patterns. Then just when water temp hit the sweet spot in mid-November, a Thanksgiving week snow and quick melt caused water temps to suddenly drop into the 30s. Not one of my more memorable fall bites.
The second wave of snow and cold this past week and another even more serious polar front arriving right now will put an end to open water fishing. Lakes are currently getting a layer of ice and additional cold will result in slush and edge ice on rivers and streams. While upsetting to one group of anglers, another group is rooting for ice cover. Looks like some of those hardwater knuckleheads will be on thin ice before Christmas. You know how much I like ice fishing…so unless I decide to journey south in January, it looks like my fishing will be limited to outflow areas below Pymatuning, Shenango, Woodcock and Kinzua dams. Hoping for an early thaw in late February or early March!
In the meantime, check out this issue's special content: Tyler Shaffer's 2016 pike exploits, and the comments from panfish expert Jim Gronaw. And don't forget Foxburg's Kahle Lake ice fishing tournament – application included.
Next NW PA Fishing Report – heavy on area ice fishing if you all send photos– will be published in mid-January likely on the 15th. You can always find the latest NW PA Fishing Report on the fishing report page at www.BlackwolfeCommunications.com. Send your photos and fishing success comments for the January Fishing Report to me by January 11th. Starting with the March issue, there will be some changes to the NW PA Fishing Report with additional tips and information. Stay tuned… RJ
By Darl Black, The Landing Net
Read the full report online at this link – http://www.blackwolfecommunications.com/Fishing_Reports/12-15-2016/