Well, it's that time of year again.  A time when we gather with family and friends at the Benner household.  We gather to celebrate another year, putting aside all of our differences.  We come together as people; not black or white; Republican or Democrat; Christians, Jews or Muslims; just as people.  We also give gifts like brick hard fruit cake, ugly sweaters and ties.  It is not the gift, but instead it is the gesture and the meaning behind it.
The holidays came early for me this year as I arrived home after a day of hunting to find two deliveries waiting for me.  Anyone who knows me knows that I love to cook; in fact I am working on a cookbook right now.  These "gifts" were two that I have on my list and they just so happen to revolve around cooking.  Even though I already received them, they are still on my list that I recommend for you.  Here it is:
Camp Chef SmokePro DLX Pellet Grill: This was one of the items that greeted me.  Granted, I had to put it together, but that was fine with me.  This item, which uses special food grade pellets, allows me to grill, smoke and bake.  I plan on smoking some trout soon.  www.campchef.com
Camp Chef Everest Propane Stove: The Everest allows me to cook everything I need while at deer or fish camp.  Using propane cylinders, it puts out plenty of heat and makes short work of any cooking chore.  www.campchef.com
Lodge Cast Iron Cookware: I love cooking with cast iron.  Nothing holds heat better or more durable.  There are many cast iron products out there, but I think Lodge is the best.  American made, it stands the test of time.  It just so happens that there was a few boxes from Lodge that arrived on the same day as my smoker.  I even got a camo apron so now nobody can see me while I'm cooking.  www.lodgemfg.com
Socks: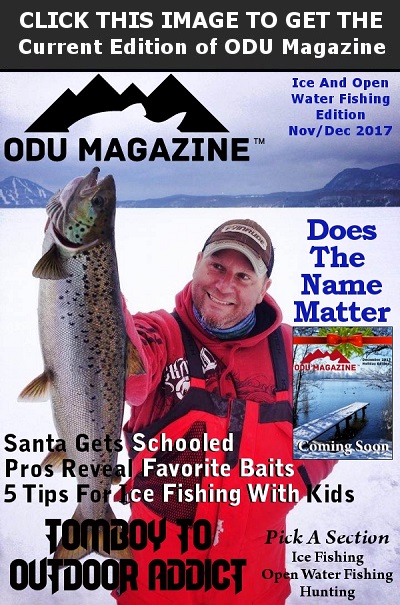 I know, we all hate getting socks, but these socks are different.  While I know someone (probably my wife) will get me dress socks (which I will never wear), these socks are wool socks that I will wear in the woods.  Nothing ruins a hunting trip quicker than cold feet.  I never have enough wool socks and what follows are the best that I have found.
Darn Tough Hunter Boot Sock

: Made in Vermont, these socks are great.  They never seem to wear out and they stay up.  www.darntough.com

5:11 Merino OTC Book Sock

: Made in America these socks combine Merino wool with copper thread and will keep your feet warm and dry.  www.511tactical.com

Smart Wool Heavy Hunt Crew

: Made in America these wool socks are some of the best out there.  www.smartwool.com
For The Kids:
The holidays are about the kids so here is a gift idea for them.  I write a great deal about The New Primal Meat Snacks because they are good and they are what I carry into the field.  Well, The New Primal has come out with a kid's version of their meat sticks called Snack Mates.  Smaller in size and made with less spices, these meat sticks are perfect for the kid's lunchbox or in their pack when out hunting and fishing.  www.thenewprimal.com
            There you have it.  I really don't want much.  I have all the guns, ammo and fishing gear that I need.  I have all the hunting clothing I could ever wear, though I could use a Henry Firearms t-shirt (size large).  I hope all of you have a great holiday season.  Spend quality time with your friends and family and plan on taking a kid hunting or fishing as it is the best gift you can give.