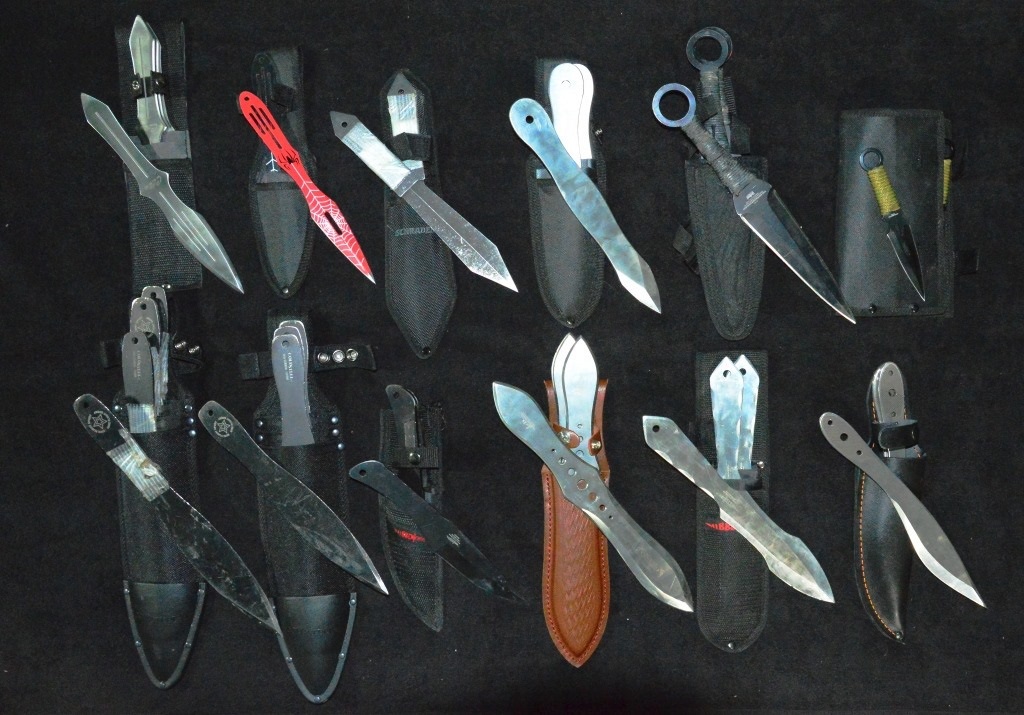 This is what I call my "dirty dozen" of throwing knives. From left to right in the photo are: Top Row: SZCO Rite Edge, 10″, 6 ozs; Arachnophobia, 9″, 2 ozs; Sharade SCTK3CP, 10″, 4 ozs; SZCO Heavy Throwers, 10″, 7 ozs; United Cutlery Expendables Kunai, 12″, 6 ozs; Whetstone Kunai S-Force, 6 1/2″, 1 oz. Bottom Row: Cold Steel Sure Flight, 12″, 7 ozs; Cold Steel, Mini Flight, 10″, 6 ozs; Gil Hibben Pro Thrower, 8 1/2″, 5 ozs; Gil Hibben Model 2033, 12″, 10 ozs; Gil Hibben Pro X Champion, 11″, 8 ozs; and LEFUX Stork, 10 1/4″ 8 ozs.
The Cold Steel are the only knives that were purchased as singles. Most are found in sets of 3.
To me the perfect knife for a beginner is the Cold Steel Mini Flight. A person can purchase one from Cold Steel for around $8, and if they don't like the sport they aren't out a lot of money. Then if they do like it they can purchase a set of them, or try some others.
Out of the dozen designs my two top favorites are the Lefux Stork and Cold Steel Mini Flight. The Arachnophobia, Sharade and Kunai models are my least favorite.
I do not recommend for a beginner to start with Kunai designs. They are not the normal throwing knife, and there can be injury from cutting and rechocetes. I had one bounce straight back and lightly stick into my upper front thigh.
The Gil Hibben and SZCO knives are all fairly good throwers, but as with all each has its own little trick to throwing.
I definitely recommend taking notes one how you throw each knife from each distances.
Normal distances for practice and competition are 7, 10, 13 and 16 feet. While that is the "normal", there are also tries at much longer distances.
If looking for deals on knives I have purchased mine directly from two manufacturers (Cold Steel and Lefux), and other knives, including some of the additional Cold Steel from BUDK, Amazon.com, and Knife Country USA. Just look for the best deals as I have, and be patient.
Until next time, shoot safe and have a great day of plinking.
—-

Today I pulled out the 13-inch, 10 ozs. Blackie Collins Mini Machete that has been carried in my Yukon. This is blade heavy, which should make it an excellent spin throwing knife. So, I tried it.
I was correct. It is a great throwing knife. In fact, it is a better thrower than it is a machete. I threw it at full spin and half spin. Because of the blade heavy design it is not good for throwing with the no-spin technique.
Now I have another throwing knife to add to the arsenal of knives.
Until next time, shoot safe and have a great day of plinking.