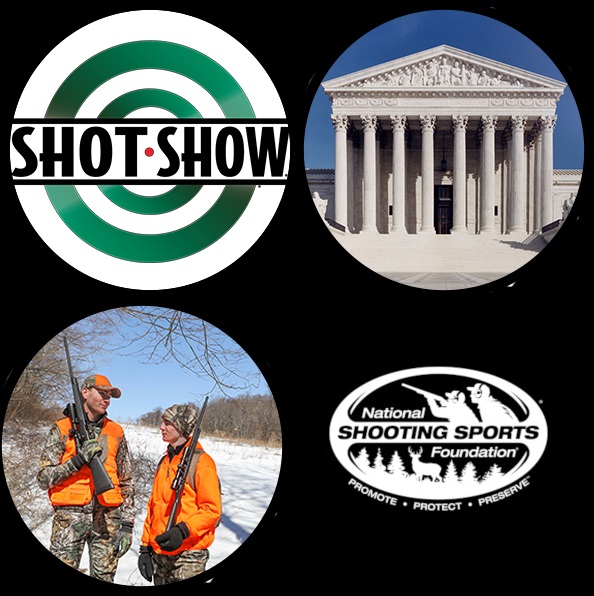 2019 SHOT SHOW® FEATURED INNOVATION AND GROWTH … The 41st SHOT Show, owned and operated by NSSF®, finished its four-day run with many notable successes, including a new record for exhibitors in its Suppliers Showcase and an innovative Pop-Up Preview that proved to be a hit with buyers. Watch NSSF CEO Steve Sanetti share the State of the Industry.
SUPREME COURT TO HEAR SECOND AMENDMENT CASE … The U.S. Supreme Court has decided to hear New York State Rifle & Pistol Association Inc. v. New York City, a case that will decide whether a New York City law that limits residents' ability to transport their guns outside of their homes is constitutional. NSSF's Larry Keane told Fox News online why this case is so important. NSSF will keep you posted on developments.
PROGRESS IN DEVELOPING NEW PARTICIPANTS … NSSF and other organizations announced at the 2019 SHOT Show a number of initiatives designed to increase participation in hunting and target through developing new participants and reactivating those who have lapsed or participate only occasionally. NSSF and other groups also announced a major milestone for the Families Afield® program of 2.2 million apprentice hunting licenses purchased.
Related NSSF Articles:
Another New York-based, firearms-related business has made the decision to expand its operations outside the Empire State thanks to its highly restrictive gun control laws. Read the NSSF blog post.
Even after Washington State's I-1639 implemented some of the most restrictive firearm regulations in the nation, the Legislature last week heard new gun control bills.
California Gov. Gavin Newsom, a likely Democratic presidential candidate, is moving quickly on new gun control measures.
The December 2018 NSSF-adjusted National Instant Criminal Background Check System (NICS) figure of 1,494,087 is a decrease of 7.8 percent compared to the December 2017 NSSF-adjusted NICS figure of 1,621,261. Log in to see the full data. While 2018 results are lower than in recent years, they remain strong when viewed on an historical basis.   
NSSF's Project ChildSafe® attracted many new supporters at its SHOT Show booth and a successful "Women of the Gun" event attended by 300 industry supporters and dozens of prominent women hunters, target shooters and influencers.
During SHOT Show, National Hunting and Fishing Day® announced that country music stars Luke Bryan and Chris Jansen will serve as honorary co-chairs for the 48th annual celebration this September.
NSSF announced at the 2019 SHOT Show that it has honored Bass Pro Shops as its "Don't Lie for the Other GuyTM" Corporate Retailer of the Year for its critical outreach and leadership in the area of  straw purchase prevention.
NSSF had Philip Massaro go out on the show floor and finding some of the hottest trends in Long-Range Rifles, Optics and Concealed Carry Handguns at the 2019 SHOT Show.
Related articles: