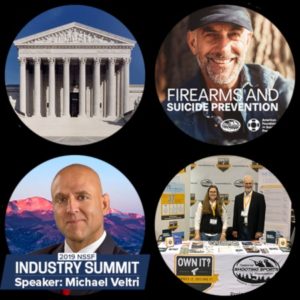 THE JUSTICE DEPARTMENT URGES SCOTUS TO OVERTURN NY GUN LAW … The Justice Department filed an amicus brief with the U.S. Supreme Court urging the justices to overturn New York City's law in the pending New York State Rifle & Pistol Association, Inc. v. City of New York. This law bars gun owners from taking a gun to a range in a neighboring county or a second home to participate in recreational target practice or self-defense outside of the city.
NSSF®, VA FURTHER SUICIDE PREVENTION EFFORTS … While speaking at the Governor's Challenge Academy, NSSF CEO Steve Sanetti described NSSF's ongoing suicide prevention efforts within the firearms-owning communities, as well as its recent collaboration with the Veterans Administration's program to foster statewide partnerships across the country to help prevent suicides among veterans and their families, and promote safe firearms storage when not in use. 
INDUSTRY SUMMIT: MAKING DECISIONS … Making the right decision at any given juncture is, of course, critical to the success of your business — but how do you go about discovering which decisions are right? At the 2019 NSSF Industry Summit, Michael Veltri shares why the most talented executives today have decision-making infrastructure in place that's designed not only to avoid wrong decisions, but to ensure that the right decisions produce exceptional outcomes. Register Today.
PROJECT CHILDSAFE® SHARES SAFETY MESSAGE … Project ChildSafe's approach to genuine firearms safety through education and distribution of gun locks was met with interest and appreciation from attendees this weekend at the USCCA's Concealed Carry Expo in Pittsburgh, Pennsylvania. The program engages with communities all across the country to promote safe and responsible gun ownership. Learn more at ProjectChildSafe.org.
MORE Gun News At ODU – https://www.odumagazine.com/topics/guns/gun-news/
More NSSF News –