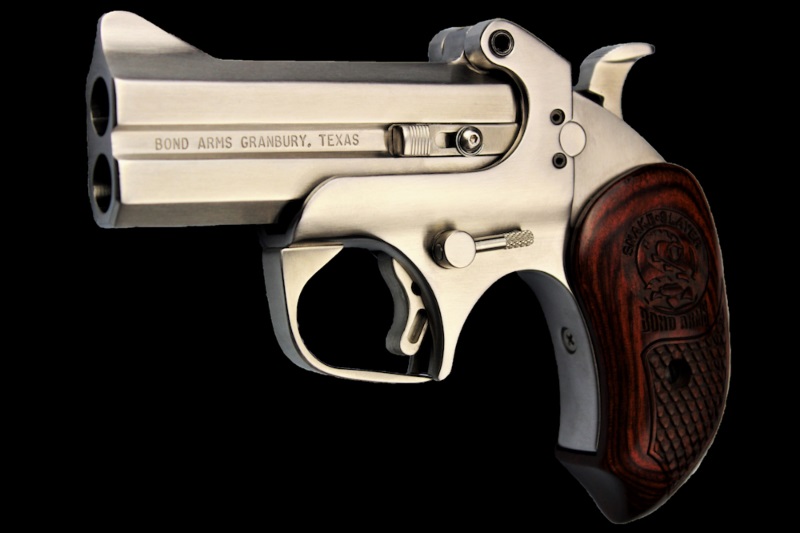 The beauty and solitude of the wilderness draw millions to enjoy our nation's fields and forest every year. The outdoors can turn unpredictable. Dangers such as snakes, wild animals and even human threats can all turn a fun day outside into a frightening, even dangerous, ordeal. For this reason, many outdoor-goers prefer to tote a sidearm whenever venturing out alone. Compact, but extremely accurate, Bond Arms' Snake Slayer™ is ideal for outdoor protection. It's no wonder it's the company's most popular firearm model.
The Snake Slayer is chambered for both .357 Mag. and .38 Special loads and is available in a version that handles both .45 Colt and .410 loads as well. For those shooters who like options without too much extra expense, the barrels are easily swapped out with additional barrels available from Bond Arms, including one in .22 caliber. Regardless, all Snake Slayers feature a cross-bolt safety, retracting firing pins, a full trigger guard, and a spring-loaded cammed-locking lever.
Every gun owner wants a sleek-looking, safe handgun. Other great features of the Bond Arms® Snake Slayer™ include a stainless-steel double barrel and frame: a patented rebounding and locking hammer, which jumps back and locks to safety after firing. An extended rosewood grip with the Snake Slayer emblem etched into the surface, along with unique snakeskin-patterned checkering will surely have people admiring your firearm.
The barrel is 3.5 inches long topped with a front blade and fixed rear sights and can accommodate casings and shells from 2.5 inches long up to 3 inches long. The overall length of the gun is 5.5 inches, and the overall weight is 22 ounces. The Snake Slayer retails for $603.
Features:
Stainless steel double-barrel and frame

Extended rosewood handle

Compatible with all standard Bond Arms barrels

Automatic spent casing extractor

Patented rebounding hammer

Retracting firing pins

Cross-bolt safety

Spring-loaded, cammed locking lever

22 ounces

Barrel length is 3.5 inches

Overall length is 5.5 inches
More Handgun News From ODU – https://www.odumagazine.com/topics/guns/handguns-guns-gun-news/