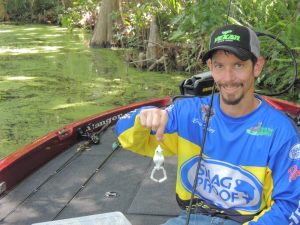 The best time to throw a Snag Proof Frog is everyday, according to central Florida bass angler Broc Foley. "It is all about risk and reward for me," stated 36-year old Foley. "I can put on a worm and catch a lot more bass, but when I throw my Snag Proof Frogs I know I am going to catch quality fish."
Foley is an Indiana native, but he is no stranger to Florida. "We made a lot of fishing trips to Florida when I was growing up and I always loved to fish here," said Foley. When the opportunity arose he took it and moved to Florida permanently. He makes his home in Umatilla. Foley considers the Harris Chain of Lakes and the St. Johns River his home waters.
Bass fishing is very important to Foley. "How bad am I hooked on bass fishing," asks Foley. "My life in order of importance is God, family and bass fishing. I think that explains it."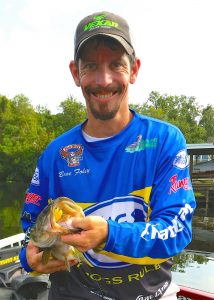 Froggin' is Foley's go to technique for catching big bass. "Whether it is skipping under overhangs, fishing open water or targeting specific structure, I like to fish frogs," elaborates Foley. "I fish frogs 12 months of the year. I personally carry over 100 frogs in my boat. I have at least three rods rigged with a Snag Proof Frog every time I fish."
 "I fish frogs because they catch bigger than average fish," exclaims Foley. "Plus, there is the thrill of the bite. Who doesn't love a big fish blowing up on a frog?"
To Foley a frog is more than a frog and understanding that helps choose which one to use on the next cast. "Anglers need to realize that a frog represents more than just a frog. Bobby's Perfect Frog and the Wobbletron, for example, might represent a rodent or other water creature because of the wider profile. Ish's Phat Frog, because of its profile, skips and walks easily, mimicking baitfish and bluegill in distress."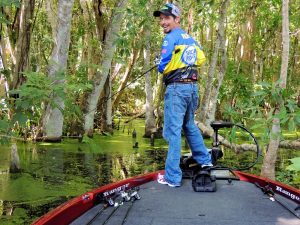 Every cast has a purpose for Foley. He is never prospect casting. Rather, he is throwing to a specific target where he has every intention of catching a big bass. He is so mentality, technically and mechanically dedicated to his goal of casting frogs in unusual places that he has become known among his fishing pals as the Frog Ninja.
The term ninja describes a person who excels in a particular skill or activity and Frog Ninja is the perfect nickname for Foley. The name ninja comes from ninjutsu, a Japanese martial art form that includes stealthy movement and camouflage. Stealth and camouflage could relate to a lot of anglers, but add the ninja functions of infiltration and assassination and you have described Foley's pursuit of the wily bass.
Foley infiltrates the bass's surroundings with precision casts that go where none have gone before. It is that risk/reward thing again. "I like to throw way back in the cover," instructs Foley. "I may not even be able to see the frog. If I get a bite, I set the hook."
As a result of his aggressive style Foley has hooked alligators and other critters in addition to his intended target of big bass. His covert methods of waging war on bass have earned him the ninja nickname. He truly does excel in his sport.  
"I target a lot of areas that are not frog areas, per say," comments Foley. "I target areas where there are bluegill, baitfish, or anything that will get a bass's attention. Bass are predators. They are going to eat anything they can, whether it be a muskrat a duck or a bluegill."
Fish with Foley for a day and it will become perfectly clear that grass and lily pads are not the only place to catch big bass on frogs. "I fish a lot of laydowns and vertical structure," explains Foley. "The majority of my fish are not caught in the grass, but there may be some grass around."
Foley is always looking for something unique, something out of the ordinary. "It may only be a 5 x 5-inch piece of grass mat that drifted up against a stick or a dock piling," said Foley. "The point is, it is something different than the surrounding water."
According to Foley way too many people overlook the subtle differences. "Most people don't think a 10-pound fish is going to set under a five-inch strip of grass. It is a common mistake that average anglers make."
The Harris Chain of lakes is highly developed with residential housing and boat docks along much of the shoreline. "The main structure on the Harris Chain is Kissimmee grass and boat docks," explained Foley. "Some of the docks will house boats and others will not. You'll also find eel grass, lily pads and sea walls. On Lake Griffin, which is part of the Harris Chain, you will be fishing a lot of lily pads, eel grass and lay downs, but it is not nearly as developed as the other lakes on the chain."
When he is on the Harris Chain Foley mainly fishes shady areas, isolated grass, docks and pontoon boats. His choice of frog usually depends on the season.
"In the spring I'm going to fish canals, areas leading into canals and pockets off the main lake," instructs Foley. "I look for eel grass and any kind of floating mat, especially in the spawning areas. The fish will be in these areas for both pre- and post-spawn periods. My frog of choice in the spring is Bobby's Perfect Frog or Ish's Phat Frog. My favorite spring colors are Fred's and KC Dragonfly.
When summer rolls around shade becomes the key. "I'm looking mainly for overhead cover in the form of lily pads, boat docks or overhanging brush," says Foley. "I will also fish a lot of main lake grass, especially if there is a shell bar or some deeper water close by. Baitfish and bluegill will spawn in these areas and draw the bass in to feed."
"When I say deep water, I'm talking five to seven feet of water. Summer is when the Wobbletron is at its best. The fish are aggressive and the Wobbletron causes a lot of commotion. You can fish it fast and cover a lot of water with it." Foley's favorite summer colors are Sticky Green, Tweety and Fred's.
In the fall and winter Foley starts probing the Kissimmee grass in the main lake. "My target is not the main stands of Kissimmee grass, but the little cuts and holes. These variations in the grass are where bass can chase small baitfish, shiners and bluegill. I prefer the sparse grass or isolated patches because it is a lot easier to dissect and pick specific targets."
"Fall and winter is the ideal time for Ish's Poppin' Frog because you can fish the holes in the grass and it mimics baitfish. It also sounds like the popping noises that a bluegill makes when they are eating bugs in the grass." 
His favorite fall/winter colors are Papa Midnight, Cali, and Original Green. "I throw Fred's pretty much all year long," adds Foley.
Later in the winter season Foley looks for isolated lily pads or other structure around canal entrances. "Typically the bass are going to fatten up in winter preparing for the spawn. I like to target mouths of canals or any spawning areas for any type of structure where they can ambush prey. Typically the prey is not going to just roam in open water so the first piece of structure is where they'll go and where I want to toss a frog."  
As far as his equipment, Foley likes a rod with a lot of backbone to pull fish from heavy cover. "I keep it very simple on equipment," states Foley. "If I am fishing isolated targets, skipping under cover and fishing scattered grass, I use a 7-foot heavy action Vexan Bass Rod. I spool my Abu Garcia Revo 7:1:1 with 60 pound Seaguar Kanzen Braid."
"When I'm fishing matted grass, heavy Kissimmee grass or open water, I will use a 7-foot 8-inch Vexan Bass Rod with Abu Garcia Revo 8:1:1, also with 60 pound Seaguar Kanzen Braid. I like the longer rod in this application because I can make longer casts and I have more leverage when pulling bass out of the thicker grass."
Foley attaches his frogs with a Palomar knot and blackens the first couple feet of braid with a magic marker for camouflage.  He adds a little fly-line wax to the line and the skirt on the frog. "The fly-line wax helps float the line and I put it on the skirt to help it flare out more and make it float," instructs Foley.  
A Snag Proof Frog plays a role in all of Foley's fishing, whether it is recreational or tournament fishing. "I would say 99 percent of my tournament wins are related to fishing frogs. I am either catching fish with them or locating fish with them. A prime example would be when the fish keep blowing up on a frog but won't eat it. That is the time to throw a follow up bait because that fish has shown itself to me."
It is obviously that ninja mentality at work when Foley admits to fishing for only five bites a day. "Honestly, every tournament I fish, January thru January, I always have a frog tied on," exclaimed Foley. "Frogs are a very versatile bait. I may only get five bites, but they are the right bites."
Broc Foley is sponsored by River Rat Tackle, Red Dirt Baits, Vexan Bass Rods, Snag Proof Lures and Bill Lewis Lures.