Turnin' Frog Into Toads? What a title. But if you know bass fishing "Toads" are big bass and everyone wants to catch a "Toad." On a November visit to bass capital Florida, we took a novice angler out with ODU to catch bass on Snag Proof Frogs. I did say novice and that is where Snag Proof's 1st "Turnin' Frog Into Toads" DVD comes into play.
If you know how to toss a crankbait, pitch a worm and flip a jig, it does not guarantee that you will smack a bass or even attract a bass to your hollow-bodied frog.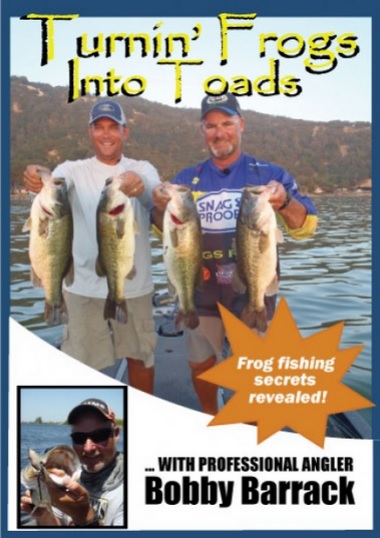 Why did we choose the Snag Proof Frog, namely one of their best selling, the Bobby's Perfect Frog. Simple … they catch bass and the way they are constructed makes the Perfect Frog the best choice for this outing. These frogs don't sink, the hooks are of the proper size and angle to improve hook setting over other hollow-bodied frogs and they are durable enough to handle the giants on the Harris Chain.
Now back to the video. Our novice frog fishermen has been a bass angler for a few years and has never ever caught a fish on a frog, but has had ample numbers of blow ups. After reviewing the DVD twice and fishing with a bunch of us from ODU, John (Carlson) was ready to go.
This was a six hour trip, working docks and lots of weed patches, and we produced 16 bass in the boat and many more blow-ups with two anglers fish nearly the whole time. The biggest fish we boated was 6 pounds and the average of the other bass was around 3 pounds. Not bad for a novice and an angler who fishes hollow-bodied frog infrequently.
What the video taught John was the following: what equipment (rod/reel/line) you need to go frogging, why use a frog, what to look for when throwing a frog, speed/tempo of the retrieve … it does matter, and pitching and sidearm casting techniques. This was enough to take a day of experienced zeros and turn the day into multiple successes.
Turnin' Frog Into Toads volume II is out and ready for ODU to take down to Florida this spring. Hopefully we take John from a 7 fish day to a 20 fish day!
ODU Staff