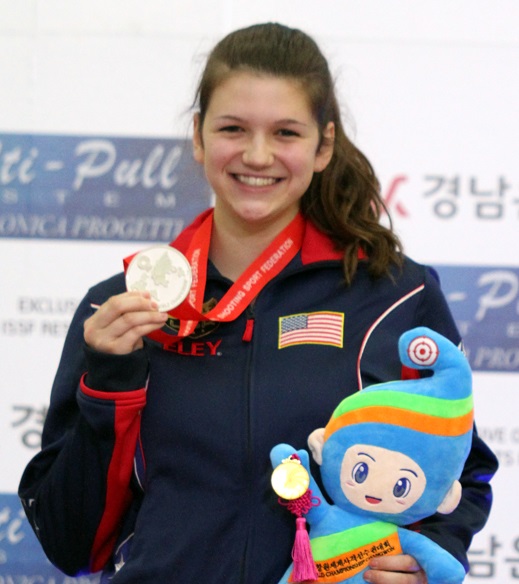 The Junior stars of the USA Shooting Team shined today on the Shotgun field and the Pistol range at the International Shooting Sport Federation (ISSF) World Championship in Changwon, South Korea.
Winning silver today in 25m Junior Women's Sport Pistol was Katelyn Abeln (Douglasville, Georgia). Abeln entered the Final with a score of 576, the fifth-highest score in Qualification. Qualifying for the Final as well in the top position was Sarah Choe (Los Angeles, California), who finished the match with a score of 582 – a score that would have put her just two points out of a potential Finals berth in the Open (Adult) 25m Women's Sport Pistol competition at this year's World Championship.
Once in the Final, Abeln jumped to the front of the pack early, sharing the lead with eventual gold medalist Xiaoyu Wang of China. After the first six series, Wang and Abeln were tied with 18 hits, but Wang would pull away with three perfect, five-shot series to secure the gold with 37 hits. Abeln fought through two shootoff series with eventual bronze medalist Anna Dedova of the Czech Republic to win the silver medal with 27 hits. Choe was eliminated in sixth place with 11 hits.
"I wasn't expecting this!" said Abeln. "I didn't have any expectations. I haven't had bad competitions, but not what I've wanted over the past couple months. Going into Sport Pistol, I was just here to finish it – I go home tomorrow – and I just thought 'Hey, it's the home stretch.' Didn't expect to make Finals at all after Stage One, but got into Stage Two and just gave it all I had. I just tried to finish strong and I did!"
Abeln's highest finish at the World Championship in this event prior to today was when she finished in 25th place in last year's Junior World Championship in Suhl, Germany. Choe finished in 14th place at that same World Championship – her highest finish prior to today as well.
Abeln said she didn't even know she made the Final until she heard Assistant Pistol Coach Libby Callahan yell "USA! USA!" and thought it was because Choe had qualified for the Final.
"I thought Sarah made Finals and I was like 'Yes!' But then I turned around and my dad pointed at me. I was like 'What? Really?' I was shocked," Abeln said. "This was my first international Final so making it with Sarah was like a dream come true. We hang out all the time. She's who I spend all my time with at competitions."
The last World Championship medal won in this event by the United States was in 1998 when Lauren Santibanez won bronze. The United States has never had two athletes in an international Final in Junior Women's 25m Sport Pistol.
Also competing in the 25m Junior Women's Sport Pistol event was Abbie Leverett (Bainbridge, Georgia), who finished in 37th place with a score of 554. She, Choe and Abeln finished in fourth place in the team event – just two points out of a potential team bronze medal. (Team medals were awarded based on cumulative Qualification score.)
Also making a Finals appearance today was the Junior Mixed Trap Team of Emma Williams (Savannah, Tennessee) and Logan Lucas (Pacific, Missouri). The team finished Qualification with a combined score of 137/150 targets. Once in the Final, they hit a combined 21 targets and were eliminated in fifth place. Lucas won the Junior Men's Trap silver medal just two days prior.
The team of Dale Royer (Jackson, Montana) and Carey Garrison (Crossville, Tennessee) finished in 12th place with a combined score of 128 targets.
In Women's 50m Three-Position Rifle, Sagen Maddalena (Groveland, California) finished in 26th place with a score of 1165. Sarah Beard (Danville, Indiana) finished in 42nd place with a score of 1160 and Mackensie Martin (Murray, Kentucky) finished in 45th place with a score of 1158.
The top finish in Women's 25m Sport Pistol for the United States came from 2012 Olympian Sandra Uptagrafft (Phenix City, Alabama), who finished in 30th place with a score of 579. Alexis Lagan (Boulder City, Nevada) finished in 33rd place with a score of 578 and 2008 Olympian Brenda Silva (Snowflake, Arizona) finished in 62nd place with a score of 569.
Complete results and start lists from the World Championship: https://www.issf-sports.org/competitions/venue.ashx?cshipid=1750.
Competition continues tomorrow with Stage One of Men's 25m Rapid Fire Pistol (Open and Junior). The 50m Prone Rifle competition for Junior Men and Junior Women will also be contested, as well as the first of the 300m events with the 300m Men's Prone Rifle elimination.
The 52nd ISSF World Championship runs through September 15 at the Changwon International Shooting Range. More than 1,800 athletes from 91 countries have gathered in Changwon to compete in the 15 Olympic Shooting events, as well as 51 non-Olympic events across five disciplines.
Check out the complete World Champs U.S. Team preview in the latest edition of USA Shooting News: http://www.usashooting.org/news/usasnews/2018-Q2-USASNews/index.html.
Complete schedule of the ISSF World Championship (Changwon is 13 hours ahead of the Eastern Time Zone): http://www.issf-sports.org/media/calendar/2018/1750/WCH_All_KOR_2018_
Final_Competition_Schedule_Picto_20180830_with_VC.pdf.
Be sure to follow the team online throughout the World Championship:
Keep up with all the action by following USA Shooting on Facebook, Twitter, Instagram and Snapchat (@usashooting), or via USA Shooting's website at www.usashooting.org.
USA Shooting Team Event HASHTAG: #USASWCH18
About USA Shooting: USA Shooting, a 501c3 non-profit corporation, was chartered by the United States Olympic Committee as the National Governing Body for the sport of shooting in April 1995. USA Shooting's mission is to prepare American athletes to win Olympic medals, promote the shooting sports throughout the U.S. and govern the conduct of international shooting in the country. Check us out on the web at usashooting.org and on Twitter at twitter.com/USAShooting.
ELEY is a Proud Sponsor of the USA Shooting Rifle and Pistol Teams: ELEY Limited, manufacturer of the world's most consistently accurate rimfire ammunition, has been the Official Sponsor and Official Supplier of .22 rimfire ammunition of the USA Shooting rifle and pistol teams since 2000. For more information on ELEY and their products, please visit eley.co.uk.
Federal Premium, headquartered in Anoka, MN, is a brand of Vista Outdoor Inc., an outdoor sports and recreation company. From humble beginnings nestled among the lakes and woods of Minnesota, Federal Premium Ammunition has evolved into one of the world's largest producers of sporting ammunition. Beginning in 1922, founding president, Charles L. Horn, paved the way for our success. Today, Federal carries on Horn's vision for quality products and service with the next generation of outdoorsmen and women. We maintain our position as experts in the science of ammunition production. Every day we manufacture products to enhance our customers' shooting experience while partnering with the conservation organizations that protect and support our outdoor heritage. We offer thousands of options in our Federal Premium and Federal® lines-it's what makes us the most complete ammunition company in the business and provides our customers with a choice no matter their pursuit.