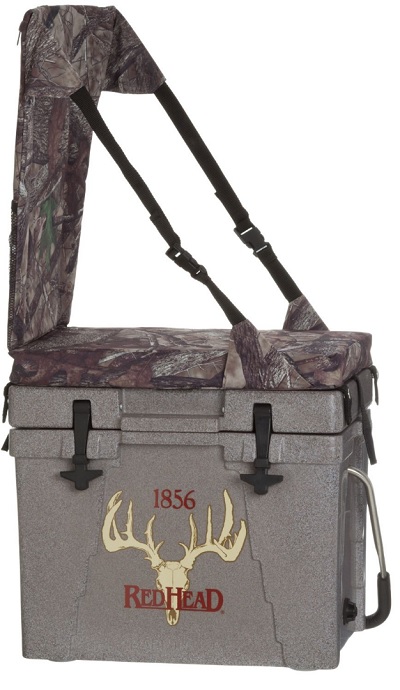 As we set off on our 1st spring ODU media trip, one thing was apparent to all, we needed to make sure all our meats were kept cold without question. We could get wet, but if the pork, steak, chicken and brats got warm we would have had a problem. We started the trip into New Hampshire with all of our equipment loaded into four Yamaha Side-by-Sides, including two coolers of frozen and somewhat frozen meats. The deer, beef and moose steaks were all stored tight in the RedHead Premium Cooler with Seat, from Bass Pro Shops. The other cooler held more brats, pork loin and chicken than you think eight men could eat. Trust us, it was all gone in four days.
On day one and two we didn't touch the RedHead cooler as planned and checked on it on the morning of day three. Freezing the meat ahead of time meant we didn't need to worry and with three Arctic Ice Tundra 2.5 pound packs directly in the middle, this cooler was doing the job. Everything was at maybe 90% of it's original frozen state, just the top meets we losing their frozen properties, but were plenty cold. We had planned on it.
Four days out and the best meats were left to day three and four. We didn't regret having prepared the meats as we did. The other cooler was good for day one and it also had the Arctic Ice Tundra 2.5 pound packs in it. It was a 64 quart cooler, verse the 23 quart RedHead cooler.  Day two the meat in the larger cooler started to show more signs of "please eat us now, or we will go bad." No worries that was the plan all along.
Bass Pro Describes the ReadHead Cooler perfectly. "Built tough with an integrated seat on top, the RedHead Outdoors Premium Cooler with Seat delivers great cooler performance designed especially for the outdoorsman. Featuring ultra-sturdy, roto-molded, double-wall, polyethylene construction, the RedHead cooler stands up to abuse. In addition, the high-back, padded TrueTimber® HTC camo seat cushion on top provides a comfy seating option wherever your adventure takes you. The specially formulated foam insulation core and Arctic Dome lid gasket work together to keep the cold in. The double-locking lid closes securely and stays that way thanks to heavy-duty rubber latches. Stainless steel handle features a comfort grip for easy carrying. Nonslip feet keep the RedHead Premium Seat/Cooler from sliding, while the oversized drain plug makes draining the cooler at the end of the trip easy. Lightweight design (30% lighter than comparable models) makes it easier to bring this high-performance cooler along on any outdoor adventure. 23-quart capacity."
ODU recommends anglers and hunters needing a medium sized cooler to keep your perishables cold and/or frozen need only stop by Bass Pro Shops and get yourself a RedHead Outdoors Premium Cooler. There is a bonus with this cooler and it comes with a comfortable seat cushion attached, making packing an extra seat not important. Well worth the money. Order your RedHead cooler at this link – http://www.basspro.com/RedHead-Premium-Cooler-with-Seat/product/9992223516/