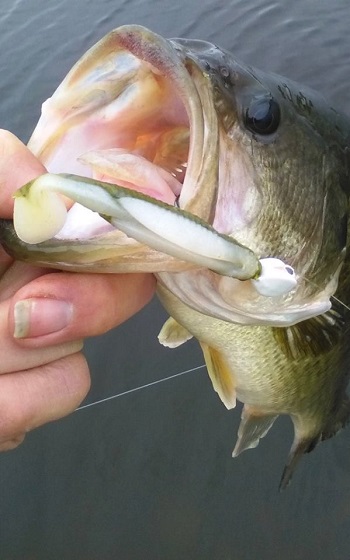 The combination of a Natural Forage Baits green shad Swim Bait and Blitz Lures LLC Swimbait head, made for another successful, short day of fishing. There were also a few bass picked up on a NFB Drop Shad rigged on an 1/8 oz. BFishn Tackle H20 Precision jig head. Don Banning used a NFB R4 finesse worm on a jig head to catch a few.
Fish were mainly on weeds and rocks, from a foot to 10 feet out from shore. The trick was to parallel the shore, and bump the weeds and rocks, trying not to get the lure too bogged into the weeds.
The three retrieves used were straight swim, lift-and-drop, and finger jigging.
Within the couple of hours that we fished there were 19 bass caught.
It was one of those days that if you fished in any other than what was producing fish, you would get nothing.
By the way, the water temperature has moved up to 54°.
Until next time, get out on the water, and have a great day of fishing.
More from Dan – https://www.odumagazine.com/topics/headlines/featured-outdoor-writers/dans-fish-n-tales/