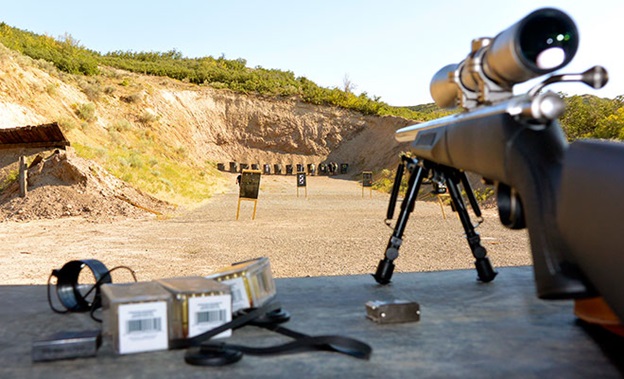 Today I'm going to show you 7 essential steps to prepping for the deer hunting season.
In fact: These are the same steps I take whenever I'm prepping for the deer season.
(And I've had a lot of success bringing back home deer)
Without further ado, let's dive right in.
1.  Check Regulations
The last thing you want is red tape ruining your hunt.
So make sure to get your hunting license WAY before opening day.
You might be wondering:
"Where do I get my hunting license?"
From your state wildlife agency. Check it out — it informs you of everything you need to know about acquiring a hunting license and additional hunting regulations like:
Hunting areas
Bag limits
Special License requirements
Once you've acquired your hunting license and understood the regulations, you're probably going to need to take a…
2.  Hunter Education Course
If you're new to hunting, you're required to take a Hunter Education Training Course.
You'll find all the details needed like course times and when courses are offered by visiting your state's wildlife agency.
Something to keep in mind is that these courses usually fill up SUPER quickly — ESPECIALLY in late summer. My advice? Take the course ASAP.
Once you've completed the HEC, it's time to start planning out the hunt, starting with…
3.  Private or Public Land?
Are you going to hunt on private or public land?
If you plan on using private land, make sure to get permission from the landowner. Also, try to maintain a friendly relationship with him/her. After all, you're hunting on their land 😉
Plan on using public land? Great, just make sure to do your homework. Study the area, look for natural funnels, escape routes and possible deer beds. And most importantly, don't forget to prepare for the biggest challenge — other hunters.
(If you think about it, It's almost like the Hunger Games 😉
Once you've decided which land you're going to use, it's time to…
4.  Set up Trail Cameras
Trail cameras are your eyes on the field. With these cameras, you'll be able to track and study deer patterns.
When setting up your cameras, place them on sturdy trees about 10 – 15 feet from the deer path. Place the camera near feeders, food plots or anywhere where deer are likely to roam by.
Once placed, ensure there are no branches or anything alike obstructing the view. Then start monitoring a list of potential targets for the hunt. While your trail cameras gather data, let's…
5.  Sight in your Rifle or Bow
Whether you hunt with a shotgun, AR-15 with scope, bow, muzzleloader, tactical rifle or all of the above — you're going to need to practice before the hunt.
In other words:
Head over to the shooting range a couple of times per month and get some shots in. If you're hunting with a firearm, make sure your gun is zeroed in (100 yards should be good) and are using the best rifle scope.
Also, ensure the mount and rings are tight and secure. And of course, stock up on ammo.
Going to hunt with a bow? Make sure to give it a thorough inspection. Ensure the strings and cables are tight and your bow is sighted-in.
6.  Set up Treestand
Since you've set up your cameras earlier, you should have enough intel to properly know where to place your treestand.
When setting up your treestand, make sure to place it as high as possible and downwind to conceal your scent. Once you've set it up, make sure the straps aren't worn or have any cuts in them and that bolts and screws are well-secured.
There's one last thing before you start your hunt:
7.  Check your gear
Let's make sure you have everything you need for the hunt:
Firearm – Your firearm should be zeroed in and ready-to-go. If you haven't already, make sure to clean your rifle scope to avoid any blurriness.
Knife – Sharpen your knife to ensure a clean cut.
Camo gear – Invest in camo gear that matches the landscape's pattern. That way, you're more concealed.
Boots – Invest in quality, waterproof lug-soled boots that are light and durable. (These should be the same color as your camo gear).
Survival Kit – The most essential things needed for this kit are batteries, first aid supplies, food supply, water purifiers, fully charged cell phone, lighter, map, and a flashlight.
Conclusion
You're now ready to go deer hunting.
Whether or not you successfully bring back home deer, just don't forget to enjoy the moment.
Happy hunting folks!
Author Bio:
Richard Douglas is nicknamed the "James Bond of Scopes" by his friends. Why? Because he knows A LOT about scopes. After all, Richard is an avid rifle scope user for over 10 years. He now reviews scopes and shares his findings exclusively on his blog, Scopes Field.