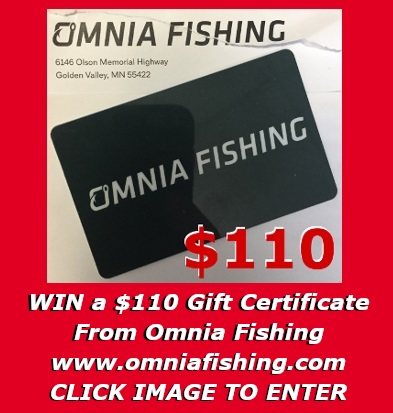 It is Contest Time and "This One" should cover every angler's basic fishing needs. A $110 Gift Certificate from Omnia Fishing www.omniafishing.com.
Omnia Fishing is the first e-commerce store that allows anglers to find, buy, and organize their fishing gear based on the specific bodies of water they fish. Omnia fishing makes finding the right tackle easy by providing hyper-personalized recommendations based on the complex relationships between species, lake characteristics, season, expert angler input and community feedback.
CONTEST LINK – http://eepurl.com/dO2LdP
The contest starts immediately! This is a straight up your register and ODU picks 1 winner on December 7, 2018 at Noon EST. Soon after ODU will conduct a blind drawing and email the winner. The winner has 24 hours to email back or call back, and if we receive no contact, we will draw another name. The Gift Certificate from Omnia Fishing is with ODU and we will mail out the following Monday.
THE CONTEST LINK IS – http://eepurl.com/dO2LdP. One registration per email address and all entries will also receive future offers from Omnia Fishing and full registration to OutDoors Unlimited's monthly free fishing magazine.
More Abut Omnia Fishing – Shop-By Lake – For the first time ever, anglers will be able to shop for fishing gear online based on the specific bodies of water they fish in a "shop-by-lake" concept. Omnia combines proven fishing strategy with expertise in data and machine learning to provide location specific product recommendations. Powering this personalized experience is Omnia's custom recommendation engine which is currently based on over 25,000 relationships between products, styles, seasons, species, and many water body attributes. With thousands of unique products Omnia provides a well-rounded, key brand leading products in the following categories: Fishing rods, reels, fishing line, hard baits, soft baits, rig, spinner/buzz baits, jigs, accessories and fishing and other outdoor apparel. Even though we're offering an innovative shopping experience for anglers, you'll also have the ability to search, sort, and shop as you would within a typical, best-in-class ecommerce store.