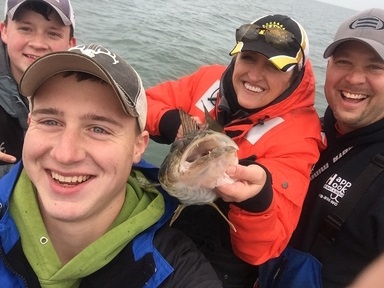 Captian Juls is a Lake Erie guide and ODU is very happy to add her to our list of contributors. Here is a little about her and a link to her bio. "Captain Juls fished as a Professional Walleye Tournament Angler for years, competing on the FLW Walleye Tour, Professional Walleye Trail (PWT), Masters Walleye Circuit (MWC), testing her skills against some of the best Walleye anglers in the country."
Link – https://www.odumagazine.com/odu-contributors/julia-davis/
Here is a snippet from the Captians own Blog: "Fishing with Mark Moser and Dr Steve Reineck 11/25/18, by Capt Juls on 11/25/18
I left the house early this morning to go get my boat out of storage for today's trip, gas up the Ranger, and get some breakfast at Big Bopper's before heading over to Mazurik's to meet my crew.
They were meeting me at 8:30, so I had a lot of time to visit with some other captains that showed up at Bopper's too. It's been a while since I had seen the bunch of them, so it was a good way to start the day! 🙂
Mark was driving in from Fremont and Steve was driving in from Sandusky. Mark showed up a little after 8, so we chatted while we waited for Steve to show up. He showed up right on time and we were launched and in the water by 8:30.
After letting the G2 warm up to temp, we headed to the northeast side of Kelly's to start looking. I stopped short of the south green can at the shoal and didn't mark much, but saw a few boats on the west side of the shoal and north of north bay trolling. But, just before I was going to move west, I got a text from someone saying they already had 6 in the box (they had launched 20 minutes before me), and gave me some numbers, so we turned and headed 4 miles southeast to give it a shot." Link to the full posting >>> http://www.julswalleyefishingadventures.com/Blog.html