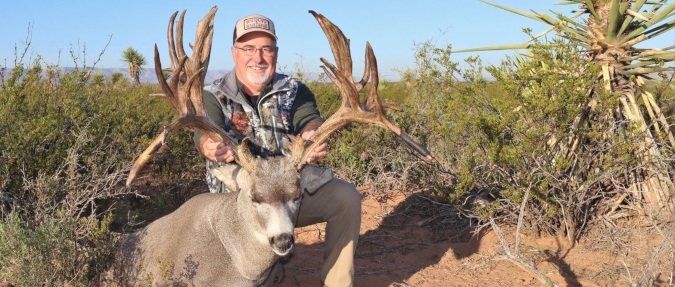 Texas deer seasons are almost always good, but this one may turn out to be one for the record books for Greg Simons of San Angelo.
Hunting on a 40,000-acre Culberson County lease shared with two buddies, Simons, 55, recently shot a desert mule deer buck that grew a magnificent set of antlers much larger than most deer hunters have seen.
The remarkable nontypical rack carries 27 scorable points — almost too thick to reach around in places — massive main beams upward of 27 inches in length and an inside spread that may be as wide as 326/8 inches, depending how judges decide it should be measured.
There won't be an official Boone and Crockett score on the big West Texas buck until early January, after the antlers undergo a mandatory 60-day drying period. However, Simons, a veteran wildlife biologist, has green-scored the antlers conservatively multiple times. He believes the buck will gross around 290 and net in the mid- to upper 280s after deducts.
"He's got a lot of palmation on one side, and the variation is going to be in some of the interpretive points," he said. "There could be a 3- to 4-inch swing in the final score depending on how it is judged."
If Simons' green score is remotely close, the buck will be the biggest free-ranging, native mule deer ever reported statewide since the Texas Big Game Awards program began maintaining a registry of big game harvests in 1991. TBGA is a hunter/landowner recognition program aimed at promoting quality wildlife and habitat management across the state.
The current TBGA state record nontypical mule deer record is a Reeves County buck that scored 283. It was shot in 2003 by Damon Compton. The top scoring Texas nontypical mule deer in B&C's all-time registry is Rick Meritt's 2643/8 whopper from Gaines County in 2014. The minimum net score required for entry into B&C's all-time nontypical registry is 230.
It takes a special animal to grow such a spectacular set of antlers, particularly in an environment as harsh as the Chihuahuan Desert that is the rugged Trans-Pecos region of far West Texas. Drought is the norm there. Deer and other wildlife have to hustle to find enough food to get by. Bucks rarely reach their full potential.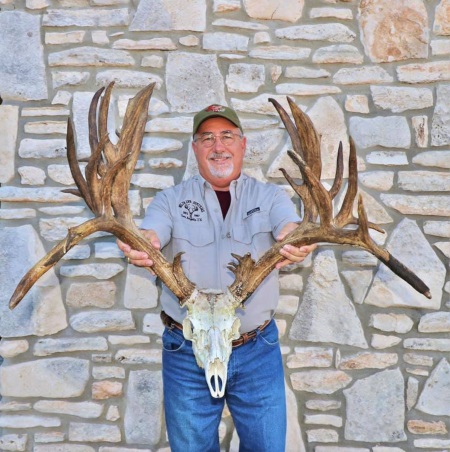 Culberson County averages about 12 inches of rainfall per year. Simons and his partners help offset the inhospitable conditions by supplementing the deer with protein pellets that are distributed at 12 feeding stations during the antler growing season.
Equally important to their management program is water. The ranch has three active wells that distribute water to about 28 large water troughs scattered around the property.
"Our water program is huge," Simons said. "Water is a nutrient, just like protein. Without water, the protein would be moot."
The big buck Simons and his friends came to know as "Hank" obviously responded well to all the love. Simons claims he saw the deer once as a 31/2-year-old 14-pointer in 2016. He estimated the buck's score at around 180 B&C.
Judging from game camera pictures the deer stacked on about 25 inches of antler in 2017, then jumped to around 235-240 B&C last season as a 5 1/2-year old.
"We saw him one time last November, but the shot opportunity didn't work out," Simons said.
In hindsight, the missed opportunity last fall turned out to be a blessing in disguise. The buck exploded last summer and polished out its most impressive set of antlers yet just ahead of the 2019 hunting season. Simons said he could tell from pictures that the buck's rack had blossomed another 40-or-so inches and that he was looking at a buck with state record potential.
"Once he started finishing out I knew there was a chance he was going to be bumping that kind of score," he said. Continue reading – Link here
Links to more giants from 2018
Andy Morgan, Pro Angler and Co-Host of Wolf Creek Bowhunting, Bagged A Giant