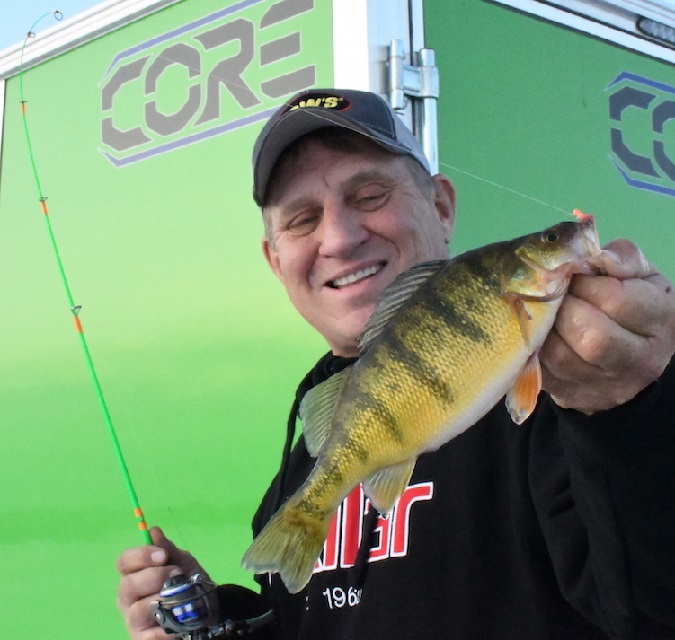 Ice-up is here!  Several bodies of water across the Midwest are now ice covered and anglers are venturing out on select waters.  We use select in italics because the vast majority of waters aren't safe for foot travel yet.  While we do urge anglers to use restraint and be careful, ice fishing season is here or, at least, very close!

Artie Arndt from Ortonville (MN) is involved in various businesses offering services to ice anglers and spends many hours on the ice every winter.  Below, we query Artie for his thoughts on ways anglers can be more successful on the ice this winter.  You'll want to see Artie's thoughts, which can help anglers visiting his home water, Big Stone Lake, but are applicable on most other winter fisheries too.
Also of note to winter anglers, CORE ICE fish houses are relatively new to the ice scene, but they have quickly gained popularity with their revolutionary designs. We'll look at one of their exciting new models below as well.
Finally, we were on the water just a few days ago wrapping up open-water TV filming for the year. We were with Strike King walleye pro Brett King catching walleyes and saugers from the Mississippi River out of Hager City (WI).  We'll discuss some of that action too.
Lots to cover, so let's get going!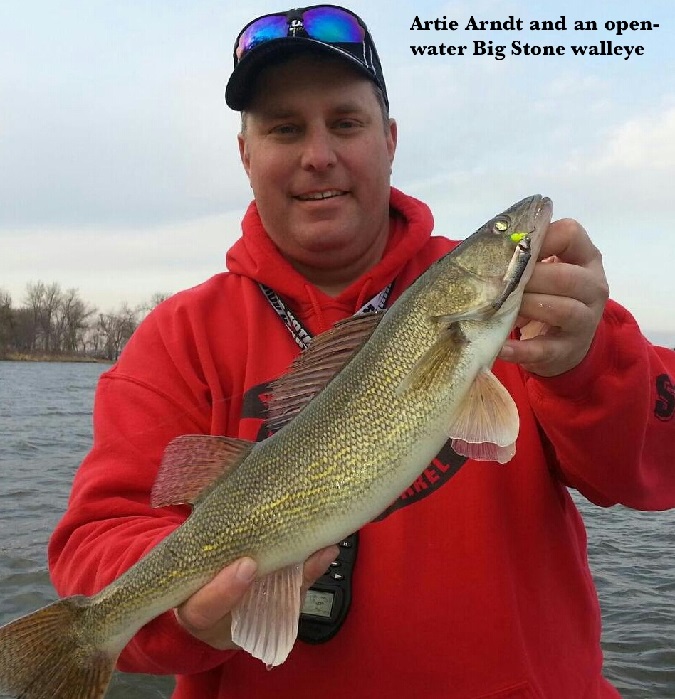 Be a better ice angler!  
A veteran ice angler offers tips for winter success
Artie Arndt owns a fish house rental business on Big Stone Lake on the Minnesota/South Dakota border, owns the local bait shop, and is the father of Tanner Arndt, one of the top winter and open-water fishing guides in that area of the Midwest.
We had a recent conversation with Artie, asking him to preview the winter on Big Stone, but also asked for his thoughts on ways ice anglers can be more successful, whether fishing Big Stone or other waters.
Here are some informative and interesting comments from that conversation, comments that we think will be useful to our REEL-TIMES readers who spend time on the ice:
(Arndt's comments are in italics.)
Big Stone's fish populations continue to boom!    

   
Our big bluegills merit attention and last winter lots of walleyes were caught, but the perch are still king on Big Stone.  And, the DNR saw a historic record number of perch and bluegills in this year's test nets.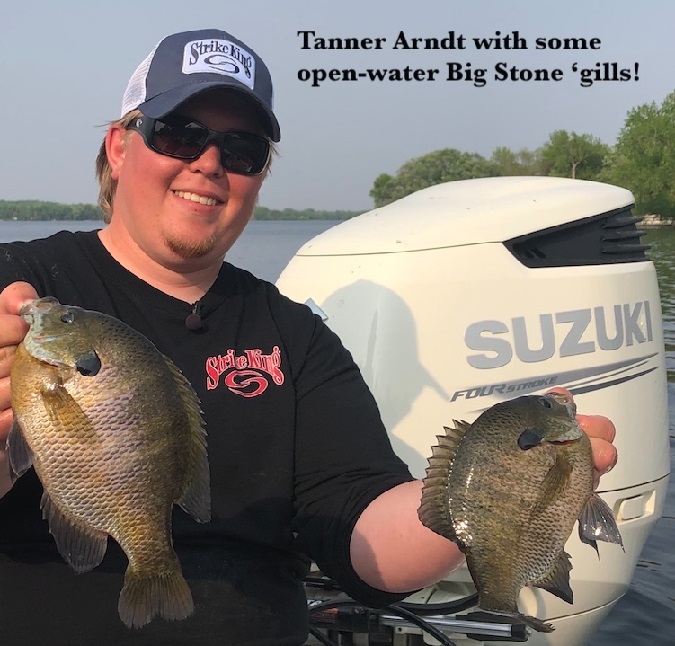 Early ice is nice cuz the fish are "dumb?"                              
Early season is still the best: the fish haven't been pressured, are hungry, and are usually pretty easy to catch.  I'm not sure if I want to say the dumb fish get caught at early ice, but later in the year we see more fish that come up to the bait, sometimes aggressively, but don't hit it as quickly or as enthusiastically.  When customers at the bait shop ask why, my response usually is something along the lines of the easy, aggressive, or dumb ones having already been caught!
How to fish for "less educated" fish                                                                        
We constantly stay on the move looking for fresh fish and we really rely on small, finesse tungsten lures to get bit. When we have our houses on a hot bite, Tanner and our other guides are already scouting for the next school of unpressured fish so that we can react quickly if a spot goes cold.
 
How to catch 'em – dumb or smart! 
Early ice fish can often be caught on jigging spoons and minnows under bobbers, but a small tungsten (jig) tipped with a spike is often what it takes to get bites from the smart fish.  Tungsten really rules during the middle of the winter!
Stay on the move
If you come out here (Big Stone) and are dead set on putting the house in one spot and leaving it there, you better get here early.  The anglers who are most willing to move, have houses easy to move are usually the ones who end up catching the most fish. 
(The cover photo above is TV host Mike Frisch with a Big Stone perch from last winter caught while guided by Tanner Arndt.  The guys hit numerous spots before finding an active perch school.)
Best time of day is?
That kind of changes, sometimes the bite peaks during the last hour of daylight, but often the first two or three hours of the morning are best, it all depends on the day.  One thing we do find consistent is that sunny days usually see more active fish than cloudy days.
If you go 
The Big Stone area has lots to offer the outdoors-lover! To learn more about the area, visit http://www.bigstonelake.com.  Also, call (320) 839-2480 to learn more about Artie's fish house rentals, guide trips, and Big Stone's fishing.