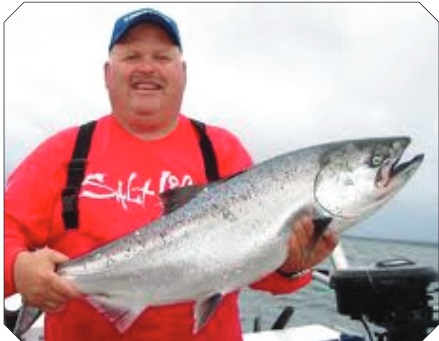 So how do you find Puget Sound winter blackmouth? The answer is don't look for the blackmouth but rather look for what attracts blackmouth.
Blackmouth are a delayed released hatchery king salmon that don't migrate to Alaska but instead inhabits the waters of Puget Sound after being released. The name blackmouth comes from the black gumline that identifies it as a resident chinook salmon. Blackmouth range from the legal size of 22 inches up to fish taken in the upper teens.
In the many years I have fished Puget Sound I have found that Puget Sound blackmouth relate to three things, structure, current and food.We have all heard the line, "Find the bait-find the fish." It sounds so easy but so many anglers ignore this simple advice in locating blackmouth. Blackmouth salmon are voracious feeders and will be looking for sand lance (candlefish) or herring to fill their bellies year around in Puget Sound.
The sand lance, which are also known locally as "candlefish," because pioneers used to dry them and make candles out of them due to their high oil content are an ecologically important forage fish throughout Puget Sound where they school in many bays, banks and inlets. Sand lance are important food for young salmon who crave the high oil content; 35% of juvenile salmon diets are composed of sand lance and blackmouth salmon depend on sand lance for 60% of their diet. By Captain John Keizer  – Link to full story >>> https://fishing-about.com/puget-sound-blackmouth/