Join Thundermist Lure Company at ICAST Booth Number 3416
7/6/2018 – Niagara Falls, ON –  The Stingnose Jigging Spoon is an exciting new Jigging Spoon that fish simply cannot resist, and anglers absolutely love.  Developed by Thundermist Lure Company, the Stingnose has its' own special custom design. The Shape of the Stingnose Jigging Spoons are so realistic and true to form, that it triggers fish's natural instinct to bite…even the most reluctant fish will hit the Stingnose.
It is known that fish will commonly attack the head of a bait fish when they first hit.  The hook on the Stingnose is strategically located at the head, which means more hook ups, better hook sets and more fish landed.
Along with its' natural shape and realistic looking eye, the Stingnose has an enticing fall which simulates an injured bait fish and attracts more fish.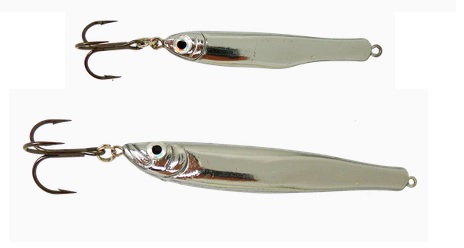 Ready for both fresh and salt water, the Stingnose Jigging Spoon is great for all game fish.  With a high quality, gold (and chrome) finish, the Stingnose is available in a variety of sizes and in 2 models.
The "Stingnose Minnow" comes in sizes  1/16 oz.; 1/8 oz.; 3/16 oz.; ¼ oz.;  3/8 oz.; ½ oz.; ¾ oz.; 1 ¾ oz.., and the "Stingnose Smelt" is a bit larger, and comes in size 2 3/4oz..  
This wide range of sizes gives Anglers a great selection as they can target the smallest of panfish to the largest of gamefish….and let's not forget the option of Ice Fishing as the Stingnose are also fantastic ice fishing lures – extremely effective.
Very affordable, the Srtingnose range in pricing from $3.99 US MRSP to 6.99 US MRSP and are available now.  
Video Link: https://www.youtube.com/watch?v=vlcKhqtZHbk
Snap on a Stingnose and get ready to "Fish the Good Life"
© Thundermist Lure Company Inc. For inquires call: 905-225-0130