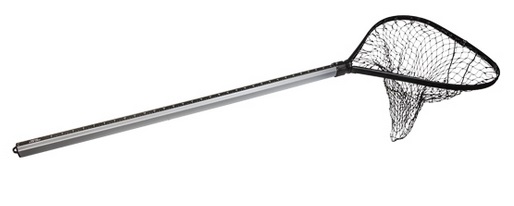 Those who enjoy fishing don't need to be distracted by the hassle of a tangled landing net, thanks to YakGear's latest offering, The Lasso Net. Now available for purchase on yakgear.com and through local YakGear dealers, The Lasso Net is a landing net that retracts in and out of its own handle.
Originally named the Bass Lasso, The Lasso Net was renamed when saltwater fisherman found they enjoyed using it also. The net can be easily stored, with the patented design allowing for the entire net to be retracted into the handle.
The Lasso Net is 18 inches long by 16 inches wide at its widest and has a 40-inch aluminum-dipped shaft with polymer arms for strength and anti-corrosion in saltwater. The net itself has a tangle-free design, preventing hooks from becoming easily tangled in it. The handle also features a 36-inch ruler on one side for measuring that trophy catch. The polymer arms will hold up to an 18-pound fish when held perpendicular, and a 25-pound fish when raised at an angle.
The Lasso Net offers fishermen the opportunity to concentrate more on fishing, rather than on the storage or use of their landing net, YakGear President Bill Bragman said.
"At the end of the day, we're out on the water to have a good time," he explained. "We like to focus on products that make every aspect of fishing easier, and that's what we've done with The Lasso Net. It can easily be stored in a mounted rod holder or under the gunwale of a boat, so you don't have to worry about the net blowing around or getting anything caught in it."
The Lasso Net sells for $61.99. Visit yakgear.com to learn more.
Related kayak articles: https://www.odumagazine.com/?s=kayak