OutDoors Unlimited Media is out at Lake Tahoe on client business this week, but we had to share with you a lake you might want to consider as part of a vacation. Maybe a bucket list item. Lake Tahoe is not a shallow lake at all, try 1644 feet and it has fishing opportunities to consider while you visit to go skiing, hiking, exploring or a Reno gambling trip.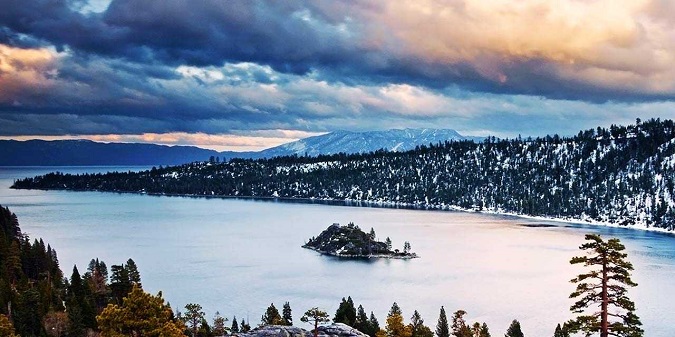 Check out these articles we found to get you fired up if you find yourself in Lake Tahoe: 
Tahoe's Big Macs – By Louis Bignami –  "In the summer of 1861, Mark Twain called Lake Tahoe, "the fairest picture the whole earth affords." More than 100 years later, Lake Tahoe is still beautiful, but its shoreline waters overflow with windsurfers, waterskiers and recreational boaters all summer.
Well below this surface clutter, massive mackinaw cruise Tahoe's inky depths to provide California's least ex-ploited large trout fishery. How large are these fish? While divers report "monsters longer than their leg", average "big Macs" run four to 10 pounds. Fish up to 15 pounds aren't unusual, and prize winners in the monthly tackle shop contests at the lake often top 20 pounds. So why are not more Tahoe visitors out for these massive mackinaw? Read the rest – http://www.finefishing.com/1freshfish/aawhereto/southwesthawaii/bigmac.htm
Lake Tahoe's deep waters are home to brown trout, rainbow trout, Mackinaw trout, and Kokanee salmon. Fishing is allowed year round from one hour before sunrise until two hours after sunset. Fishing is not allowed within 300 feet of lake tributaries from October 1 to June 30. The limit is 5 fish; no more than two of which may be Mackinaw. California or Nevada fishing licenses may be used anywhere on the lake. Check California Freshwater Sport Fishing Regulations for any updates. Continue – http://www.californiasgreatestlakes.com/tahoe_north/tahoe_north_fishing.html
Monster crappie in the Tahoe Keys! – Recently due to the shorter days I have been exploring some fishing options closer to South Lake Tahoe. One place I have been spending a lot of time fishing is in the Tahoe keys. I fished the keys for the first time in May and was surprised to find that it is full of above average sized crappie, as well as some nice largemouth bass. Just a few nights ago my friend Ron landed this nice crappie on a black wooly bugger. Continue – http://tahoeflyfishing.com/guide-trips/monster-crappie-in-tahoe-keys/