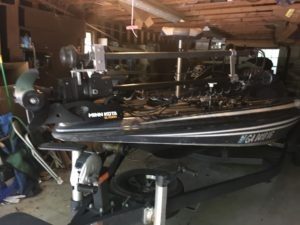 I ordered a Minn Kota Ulterra trolling motor from MyGreenTackle.com. Their service and price was great, the chat person gave me good advice, their prices are competitive and there is no sales tax or shipping fee. The motor arrived in only two days. BUT, I was too excited to really check. Took the motor to be installed and he called me when he got ready to hook up the power.
My boat is wired for 36 volts and the motor was a 24 volt. Glad he noticed before hooking it up!
I contacted MyGreenTackle and they confirmed they shipped the wrong motor. Since it was already hooked up I decided to see how it preformed. It has more than enough power for my boat, and I can use the extra battery for accessories only, solving several problems. Decided to keep it, and MyGreenTackle refunded the difference in price, but I am worried about reserve power.
There was another problem I did not anticipate. I have a Humminbird 360 scan that I love, but there is no way to mount the transducer to this motor since the shaft slides. And my 2016 sonar units are too old to use the Chirp transducer built into the motor, so mounting the old transducer is a problem, too. I could order a newer unit for sonar, and may do that eventually.
I contacted Minn Kota and was told there is no way to mount the 360 transducer and they do not make an adapter. That is strange since both Humminbird and Minn Kota are owned by the same company, but I guess that is big business. Continue reading – https://fishing-about.com/i-love-hate-my-new-minn-kota-ulterra-trolling-motor/