Camping, without a doubt, is a fun activity for the whole family. However, many almost overlook this when thinking of a weekend trip or bonding with their loved ones.
Kids and adults nowadays are always in front of their phones or computers all day in schools and offices. On their days off, instead of enjoying that camping moment with their families, some choose to stay home playing their favorite online games or surfing the net.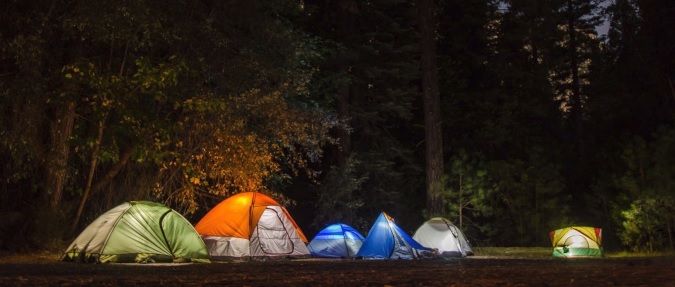 But if you want to be different this time, and you want to try this fun and exciting activity with your better half and kids, you might want to check out this guide to pull off a great first camping experience.
Familiarize Yourself with this Activity
To reiterate it, this is something new to you and your family. You can watch camping videos online to know what exactly is Camping.
Involve kids in Packing
Kids, definitely, are the ones who will be most excited knowing that they will be in the woods for a day or two. Thus, it is just logical to have them involved. Let them pack for their stuff, or at least, let them help you pack. It will add excitement to their already jumping hearts.
When packing, make sure that you bring some toys for your gals and boys. By bringing their favorite playthings, you will be able to keep them busy while you are busy doing something in the campsite, like grilling or cooking food for dinner.
Also, see to it that you are bringing clothes accordingly. Don't forget to bring something that can protect them from insects or mosquito bites while outside of the tent; let's say bring not too thick long sleeves and jogging pants.
In addition, you must also bring stuff for sleeping, like a sleeping bag. Sure you won't have your king size bed in the woods, so make sure to bring at least a foam and pillows to give you a comfortable sleep.
Pack food kids like. While it is good to involve kids in packing your things, it's the parents' responsibility to make sure their kids will have something healthy to eat. You may allow your children to bring their favorite snacks, but do not forget about fruits and veggies.
Aside from food for kids, you must also bring water, cooler, griller or stove, frying pan, ladle, knives and scissors, chopping boards, match or lighter. However, if you do not want to spend too much time cooking, you may also consider can goods.
Do not also forget to bring items, like sunscreen, insect repellants, medications, first aid kit and toiletries.
Lastly, packing must involve organizing things. Let's you have one bag for the clothes, one bag for the food, and one bag for emergency kits. It will be easier to find them when they are needed. For other bulky stuff, like the tent, you can organize them in your car or VR. Allot a spot for each of them.
Look for a Good Campsite
This is important because you are going with your kids. To be able to have a comfortable and safe night, finding a good campsite is a must. It will be your first time to do this, and you do not want to ruin it by staying in an area with lots of bad elements.
Prepare for the Worst or for a Change
The thing with Camping is it is done outdoors, and it is prone to changes or causing people to be in bad weather. Thus, preparing for these is a must. You can check what the weather will be like on the day that you will go camping, for it will be a big factor why there will be changes or worst case scenarios, like rain.
Prepare a Good Tent
This is in connection with preparing for the worst. A good tent that can house the whole family and can give them a comfortable night or stay is crucial. Now, in case you are not sure about the weather on your camping day, learn how to waterproof your tent. To make sure your tent can stand the bad weather, check this blog: How to Waterproof a Tent | Step By Step Guide To Keep The Rain Out.
In addition, aside from protection purposes, a tent somehow gives campers a complete experience as this is what is usually seen on blogs or videos when talking about camping.
Have Time for Games
Sure it's a completely different experience, and it might be overwhelming. You can have a breather by playing exciting games with kids.
Here are some fun game ideas
Flashlight Tag

Two Truths One Lie

Simon Says

Sack Race

Thumb Wrestling

Charades
Lighting and Whistles are Crucial
These are two of the must haves definitely, so it's just right to allot a special paragraph for them. A light, specifically, is important when you are staying at a campsite for a night. A portable lamp is advisable. Also, each one must have a flashlight, so each one will easily see the passage clearly, but If one gets lost at night, whistles take over. They can blow their whistles to give signals to others or at least make them know your possible location. Combine whistling with turning off the flashlight, and that will be a life-saving tandem.
Set Camping Rules
To avoid possible serious problems, like one getting lost, you can set a rule or at least make it clear to everyone, especially to your kids that they can't go far from the site. You can mention punishments, like not allowing them to eat their favorite snacks if they break the rule. That will be a nightmare for some kids.
Camera
Yes, you may consider bringing a camera at the site for documentation purposes. This first time experience is going to be one for the books, so you want to immortalize the moments, and that could be done with the help of the camera by taking videos or photos of your first camping experience.
Final Words
Camping, despite being an old-fashioned way of spending the weekends with the whole, is timeless. Both the oldies and youngsters will surely have a memorable experience provided that you follow certain camping tips mentioned above.
More camping articles – https://www.odumagazine.com/topics/headlines/camping-hiking/