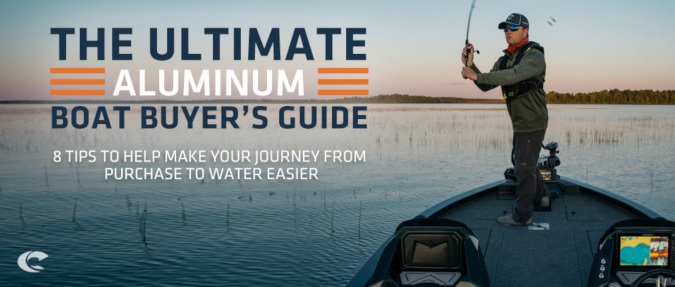 It may seem like the same situation, but buying a boat is not like buying a car. It isn't a need, but a want (although it's debatable for some), and it's an experience you should enjoy. You work hard, and now you get to reward yourself. The most important thing to do when shopping for your boat is to be honest with yourself about how you'll use your boat. If you're going to spend 90% of your time fishing, get a fishing boat. Are you more likely to be towing water skiers but fish occasionally? You'll probably want a recreational boat or a fish and ski boat.
Whether you're a new boat buyer or you're looking to buy again, you can help yourself make the journey from purchase to the water easier and more fun with a few of these boat buying tips in your back pocket. With some research, a few conversations, and hopefully a showroom visit or two, you can find the right boat for you.
Smart Spending
New or Used?
Whenever price tags and budgets enter the conversation, the first decision to be made is whether to buy new or used. There are pros and cons to both.
A new boat typically promises better fuel economy than older boats, as well as warranty protection. It's turnkey and water-ready; just a quick trip from dealer to dock. Buying your boat new also means you get to customize it how you want and need rather than having to settle for someone else's perfect boat. Afterall, that's part of the fun of buying a new boat: making it your boat. Many manufacturers offer interactive boat builders on their websites to show you all the possibilities of each model and provide pricing information, but if you need some guidance on which type of boat to look for and deciding on specific features that offer the customization you want, your dealer can help you navigate the options.
With a used boat, you may get a good deal, but you may also get what you pay for. Do you know how to examine an engine? Or how to check wiring and other repairs? If you are leaning towards buying used, it's beneficial to be mechanically inclined or have a healthy appetite to learn how to become so. There are always unknowns and hidden costs that could surface, so it's important to make sure you inspect used boats thoroughly. When in doubt, find a local marine surveyor to inspect it before buying.
Are you making a trek to a different region of the country for a better deal? States that border saltwater often provide better deals, but don't be tempted by the price tag, especially when looking at used boats. When a boat has been in saltwater or has faced other extreme conditions, there may be some long-term damage that can't be seen.
It's always smart to ask the dealer/seller if the boat is still under warranty. Crestliner offers warranty transfers between owners which is great if you decide to buy used (and helps with resale value if you're selling used!). 
Financing
Most banks are typically willing to extend terms out longer and at lower rates on new boats as compared to used. Like any other loan, however, interest rates and loan terms are dependent on credit history, down payment and current assets.
Used boats often see shorter term loans at higher rates, so if you're creating a budget based on monthly payments, you might end up paying more in less time. With new boats, your loan term could be 15 years or more at a much lower monthly cost, and you may not end up on the hook for the whole cost if you decide to trade-in at some point.
Cost of Ownership
Most boat purchase decisions are budget-based, but you should consider the entire cost of ownership rather than just the price of the boat when setting your budget.
Read the complete article at this LINK.
More boat news – https://www.odumagazine.com/topics/fishing_freshwater/boat-news/