Outdoors Unlimited Consulting Services
"Outdoors Unlimited" Consulting Services offers you over 35 years of industry experience doing just about everything imaginable from running manufacturing operations, TV productions, tournament director for numerous tournament trails, magazine editor and chief. We have won awards for our television shows and electronic publication. Additionally, we are past presidents of two major media organizations FOWA (Florida Outdoor Writers Association) and SEOPA (South Eastern Outdoor Press Association) to our credit.
Here is some of the ways we can help your company:
New products: Capitalize on your claim to fame and assist in the development of new innovative products and exposure to the consumer.
Pro-Staff: Maximize clients exposure utilizing major tournament organizations i.e. BASS, FLW, etc.
Assist in the development pro-staff and mentor them on working with the media.
Minimize consumer-advertising cost by utilizing our years of experience and group purchasing power.
Utilize our knowledge of the industry to gain editorial support in the respected publications.
Assist with promotions utilizing product trade-out in lieu of cash when and wherever possible.
Recommend the appropriate publication(s) for their advertising needs and budget.
Product exposure to various tournament groups.
Media Trips: Locate, plan and oversee media trip(s) with various media representatives to introduce them to your products. We capitalizing on all phases of media i.e. print publications, Internet publications, and TV and Internet websites.
Provide creative advertising solutions, advertisements, printed materials and trade show support.
Contact Larry Thornhill to set up a meeting to discuss your companies objectives at 919-603-5681 or email him at This e-mail address is being protected from spambots. You need JavaScript enabled to view it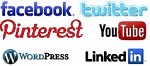 Sociall Network Marketing. Social Network Marketing. Combining your companies messages and products in a social network marketing plan takes experience. How can you tie into & communicate with your customer base & grow sales?

ODU will oversee a comprehensive social media strategy for you. ODU will plan a wide variety of social media activities such as blogging, community development and management, commenting, as well as up-to-the-minute industry knowledge to execute: Twitter feeds, Facebook development, Pinterest development (if necessary), RSS Development, Website Integration, Blogs, Optimized Press Releases, Use Your Prostaff Successes and Knowledge, Social Media News Releases, Online Marketing/Advertising, Online Newsrooms, Viral Videos, & Wiki Updates, etc.
ODU has at our disposal the largest Twitter Fishing media network (100,000+ followers organically grown) and various Facebook accounts to help get the word out about your company and products, and most importantly get the project off the ground. We will develop a strategy to provide your company with exposure to new clients utilizing social network marketing.
Contact Billl to set up a meeting to discuss your companies objectives by emailing him at This e-mail address is being protected from spambots. You need JavaScript enabled to view it