Lou Mintzer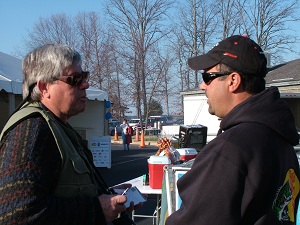 Lou has been fishing and enjoying the outdoors almost 60 years. Growing up in central Pennsylvania, he learned to fish on the Susquehanna River and the Yellow Breeches Creek.
Lou, his wife, Lynn and their family moved to North Carolina 30 years ago. They relocated to Mooresville in 1997, and Lou opened an independent insurance agency. Lake Norman is now his home lake. Being self-employed allows him the time to travel, fish and write. His grandkids are featured in many articles as they learn to enjoy the outdoors.
He started writing a fishing column, "Time for Fishing," for a local paper in Mooresville, called The Lake Norman Times. And, like they say, the rest is history. He writes for The Charlotte Observer, The Lake Norman News, The Mooresville News, and from time to time various magazines.
Lou traveled to Japan 4 years and wrote about bass fishing and travel in Japan. He fished with the number three bass angler in Japan on Lake Biwa. (The world record black bass was caught on Lake Biwa.) Kazumasa Okumura, is known as the big black bass hunter and is the owner of the DEPs fishing tackle company.
The next big trip will be in December, 2013. He and his wife are planning to travel to Thailand for a month of tourism, photography and fishing fresh and salt water.
In the meantime, Lou will be fishing, taking pictures and traveling somewhere looking for a great catch and a great story to share.
This e-mail address is being protected from spambots. You need JavaScript enabled to view it